Arcam Solo rDac wireless digital-to-analogue converter
Stream spirit
Mastering USB music
Swapping the rWave dongle for a USB cable didn't have any noticeable impact on sound quality. To make USB-sourced music sound as good as possible, the rDac uses audio specialist Data Conversion Systems' (dCS) asynchronous USB system, which is essentially a way of ensuring a smoother flow of music data over the bus, eliminating digital audio artefacts.
I've listened to the rDac with dCS' system on and with it off, and there's a clear improvement to be heard. But it really depends on what your computer is up to: whether it's doing little more than keeping the USB buffer filled, or is busy performing other tasks too. It's the latter that can lead to the signalling issues that async USB counters.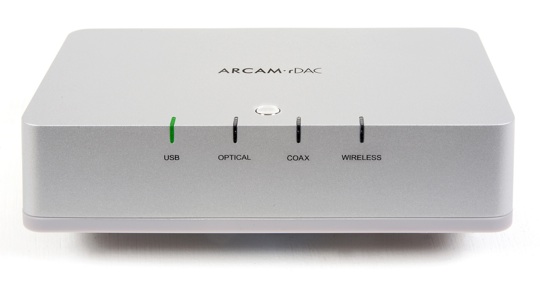 USB audio enhancer
Finally, I also compared the rDac with a 40 quid CYP AUI-D3 DAC. Here the difference - using a DVD source, connected by optical cable - was an order of magnitude greater, with the rDac delivering detail and revealing subtleties beyond anything the CYP could manage.
The last test was conducted with an iPad and the rWand adapter. The resultant blend of convenience and sound quality is the most compelling reason I can think off for actually buying an iPad.
Verdict
When it comes to getting music off your disk drive or handheld and into your hi-fi, the rDac is tough to beat and the connection options make it a very versatile device. You can get one without wireless for £75 less. ®
More Audio Gear Reviews…

Keene
USB FM
Transmitter
Apple
iPod Touch 4G
Gear4
UnityRemote
M-Audio
Pro Tools
Recording Studio

Arcam Solo rDac wireless digital-to-analogue converter
A versatile standalone DAC that boosts the quality of music sent over USB and wirelessly.