Casio touts 'Bluetooth Low Energy' wristwatch with 2 year battery
Also: WiFi rodent spotted in Vegas
CES 2011 Casio is showing off a prototype Bluetooth Low Energy watch at CES, hoping that it is battery life that's stopped us rushing out to buy wrist-mounted Bluetooth kit.
The watch, which still lacks a model number, uses Bluetooth Low Energy to communicate with a mobile phone so it can buzz when the phone rings. Not only that, but it can set the time based on the phone's clock – though we can't help hoping that a Casio-designed watch would keep better time than a cellphone clock, and it's hard not to see the whole thing as a solution in search of a problem.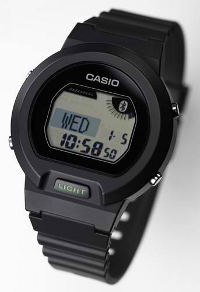 Sony Ericsson managed this years ago, and could show the caller's number too...
Bluetooth Low Energy is based on Nokia's abortive Wibree technology, and is basically a separate radio stack that delivers very low bandwidth at very low power, allowing Casio to promise a two-year battery life for its prototype watch.
Not that Casio is alone in thinking that we're all searching for better wireless communications: Ozmo Devices, pioneers of the using-Wi-Fi-for-everything approach, have been demonstrating a Wi-Fi mouse ideal for all those laptops that don't have Bluetooth of any variety.
Ozmo's technology runs on top of Wi-Fi Direct, the peer-to-peer Wi-Fi technology being pushed so hard by Intel. Ozmo has managed a deal with Logitech to create Wi-Fi-powered speakers, replicating something Bluetooth has been happily doing for years.
But Intel has a decent patent portfolio in Wi-Fi, enough to motivate the company into pushing the technology as widely as possible, while the Bluetooth SIG is hoping that the increasingly-health-obsessed baby boomers will provide a market for its Low Energy variant, though even they probably won't be wanting a buzzing watch, no matter what the battery life. ®
COMMENTS
Two year battery life...?
To give an indication of retrograde performance, I have a Casio digital watch that I bought almost 30 years ago that still works and has alarms, stopwatches and all manner of 'cool' gear. I get six years from each battery, despite the harsh handling I have dished out to it over the years. Somthing tells me they need to go back in time to go forward with the product, otherwise it looks very much like a disposable toy!?
Wrong way round
They should of made it so the Jesus phone can sync to the watch so it gets date and times right!
Reminds me of TBBT
Where Howard comes up with the idea of adding bluetooth to a flower barrette.
As Sheldon confirms, "Penny, everything is better with bluetooth"
Just why?
Brought to you by the people who still think that digital watches are a pretty neat idea.
What is the point????
Somewhat off-topic...
But why, oh why, won't Casio make more totally digital watches with stainless steel body?
If it is analogue it may have a steel body (and wrist band), if it is fully digital it will have rubber/plastic bands that fail under 2 years. I found only 2 models ever that were fully digital with steel cases, and one of them belonged to my father, being a model built over 40 years ago.
I'll wait until they build a complete cell phone with 2-year batteries, either rechargeable or not.
They could recharge on human heat, jeans friction, vibration, whatever... Forget color screens, MP3 songs, FM listening, browsing, just a phone... that works 2 years unplugged... and that makes phone calls. Is that so much to ask?
Feel free to vote me down now and not thinking outside the box.