Rip, rig and panic?
Whilst the included Cyberlink software appeared to work wonders with DVDs, I couldn't initially say the same for Blu-Ray playback as every attempt made to watch a film ended abruptly in an error message stating "There is a disc with an unsupported format in drive H:."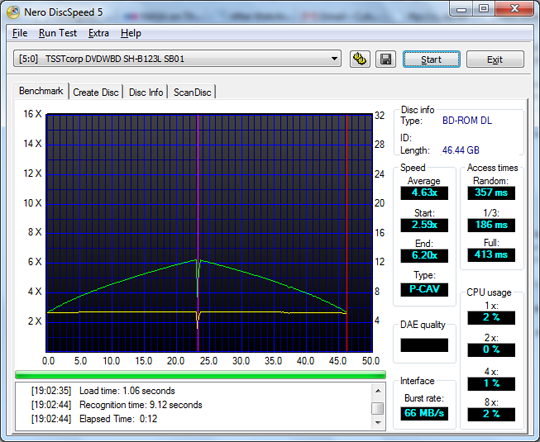 Nero DiscSpeed suggests the 12x Blu-ray read speed is a tad optimistic
After consulting with the folk at Samsung and Cyberlink, the issue was determined to be caused by an unidentified item of software on my set-up. Not exactly a decisive conclusion, as whatever it was prevented PowerDVD from recognising the SH-B123 as anything more than a DVD±RW drive. Hence, a fresh and long overdue Windows installation on my test rig seemed in order. Thereafter PowerDVD was able to unleash the full potential of the SH-B123 and its impeccable Blu-Ray playback.
Whilst movie playback quality was flawless, I also benchmarked the drive with Nero DiscSpeed to see if Samsung's 12x read claim is accurate as there will be some looking upon this device as a fast rip drive to extract optical goodness for their media playing pleasure.
Although the drive did peak beyond 6x – which is more than a typical 8x drive will actually obtain with a generic disc – the full 12x potential was not seen. Perhaps with a perfect pressing it might be achievable, but it appears to be out of reach for your off-the-shelf Blu-ray movie.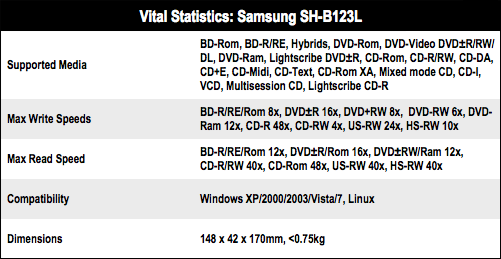 COMMENTS
My thoughts exactly
This is a pointless comparison.
Also what's this comment about the pioneer drive producing a sharper image? It's not qualified in any way. A different drive isn't going to have this affect as the mpeg decoding and image rendering is taken care of by the playback software and/or the graphics card.
What you seem to be comparing is one DVD package vs another.
Finally, up-scaling. If you watch a DVD on your computer or on an HD TV, it has been up-scaled. Sometimes this up-scaling is done by your DVD player, sometimes it is done by the TV and sometimes it is done by software either in this case the DVD player software, or in other cases by windows. In all cases it is up-scaled since it started off at 720x576 and ended up at some higher resolution.
Beware!
Maybe my two points are connected, but whatever :)
Firstly, £90? I have recently built a new media center PC and the BR drive cos £30, with bundled PowerDVD.
However, that particular version of PowerDVD was intentionally crippled (2 channel audio), and the latest version is actually 10, so even this Samsung drive has an old version, most probably tied to the drive as well.
Cyberlink do provide a trial, so you can see if the latest version does what you want on your hardware, but there are about 4 or 5 versions, all with varying degrees of crippledness. The 'best' version is £80! At these prices, most might as well just buy a standalone...
(With the digital nature of BR, I do not understand why the software is £80 and why it needs so much bloat. Simply render the 1080p image 1:1 on my screen, send the audio bitstream to the amp, job done.)
Screenshot WTF?
With the Private Ryan image, you're taking an image where the left half of the shot is unfocused, and then asking us to make some kind of comparison between the standard-res, UNFOCUSED left and the upscaled IN-FOCUS right?
What is this bullshit?
You shouldn't have had to pay a restocking fee.
The item was not "sold as advertised" - therefore breaking the Sale of Goods act.
Totally Dissapointed
I got this drive a couple weeks back from Newegg to speed up reads, already having two older 8X BD-ROM's. The read speed was slower than either of the 8X readers even after the latest firmware update. I returned the drive and even paid the restocking fee as I would rather put the money towards another reader like one of the two I have. Hopefully there will be more faster readers coming out soon that work better.