Samsung SH-B123 internal 12x BD-Rom drive
Speed reader?
Review Some feel that optical media is dying in favour of digital distribution, however, in this world of high definition content there are still those who'd rather not abandon shiny plastic discs and hence, we have Blu-ray. This is not to say that Blu-Ray is not an important development in digital optical media technology, a 50GB dual layer disc is a fair improvement over the 700MB maximum capacity of a standard compact disc. Ah yes, remember, those things from the 20th century that people used to buy music on?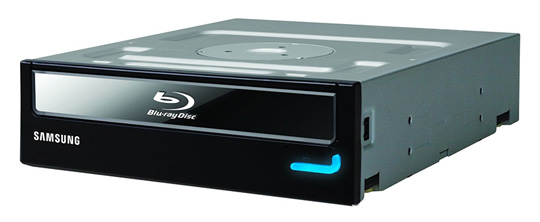 Combo session: Samsung's SH-B123
With the Samsung SH-B123 internal optical drive, the company lays claim to it being the fastest BD-Rom on the market with a blazing 12x read speed, along with low power consumption and reduced noise. The DVD±R read/write speeds are 16x with dual layer discs notching up half that for writing and 12x for reading.
Part of the deal is this package can also upscale DVDs. However, this is a feature of the Cyberlink PowerDVD 9 software suite included with the SH-B123. Whilst the TrueTheater HD feature does improve the picture quality, it is not restricted to the work only with the Samsung drive. So I gave it a go with Saving Private Ryan on DVD, along with my old Pioneer DVR-111D DVD±RW drive for comparison.
With the DVR-111D, the standard quality playback was identical to the SH-B123, but surprisingly, the ancient Pioneer drive produced a sharper image, although some might argue it's a tad too grainy. Whilst Samsung's new drive does produce a noticeably better-than-average picture using TrueTheater HD – when compared to the results with the DVR-111D – it does appear softer with slightly lower contrast. Have a gander for yourself, the left side of the image is DVD standard quality and the right hand side has been upscaled.
COMMENTS
My thoughts exactly
This is a pointless comparison.
Also what's this comment about the pioneer drive producing a sharper image? It's not qualified in any way. A different drive isn't going to have this affect as the mpeg decoding and image rendering is taken care of by the playback software and/or the graphics card.
What you seem to be comparing is one DVD package vs another.
Finally, up-scaling. If you watch a DVD on your computer or on an HD TV, it has been up-scaled. Sometimes this up-scaling is done by your DVD player, sometimes it is done by the TV and sometimes it is done by software either in this case the DVD player software, or in other cases by windows. In all cases it is up-scaled since it started off at 720x576 and ended up at some higher resolution.
Beware!
Maybe my two points are connected, but whatever :)
Firstly, £90? I have recently built a new media center PC and the BR drive cos £30, with bundled PowerDVD.
However, that particular version of PowerDVD was intentionally crippled (2 channel audio), and the latest version is actually 10, so even this Samsung drive has an old version, most probably tied to the drive as well.
Cyberlink do provide a trial, so you can see if the latest version does what you want on your hardware, but there are about 4 or 5 versions, all with varying degrees of crippledness. The 'best' version is £80! At these prices, most might as well just buy a standalone...
(With the digital nature of BR, I do not understand why the software is £80 and why it needs so much bloat. Simply render the 1080p image 1:1 on my screen, send the audio bitstream to the amp, job done.)
Screenshot WTF?
With the Private Ryan image, you're taking an image where the left half of the shot is unfocused, and then asking us to make some kind of comparison between the standard-res, UNFOCUSED left and the upscaled IN-FOCUS right?
What is this bullshit?
You shouldn't have had to pay a restocking fee.
The item was not "sold as advertised" - therefore breaking the Sale of Goods act.
Totally Dissapointed
I got this drive a couple weeks back from Newegg to speed up reads, already having two older 8X BD-ROM's. The read speed was slower than either of the 8X readers even after the latest firmware update. I returned the drive and even paid the restocking fee as I would rather put the money towards another reader like one of the two I have. Hopefully there will be more faster readers coming out soon that work better.