HTC Desire HD
Big-screen Android smartphone
Goes like the clappers
Major benefits of Froyo include the addition of Adobe Flash, the ability to off-load apps onto SD cards and the ability to turn the handset into a Wi-Fi hotspot. The Flash installation worked perfectly letting me watch the BBC's iPlayer in the browser, as God intended.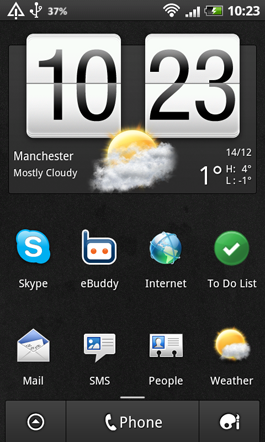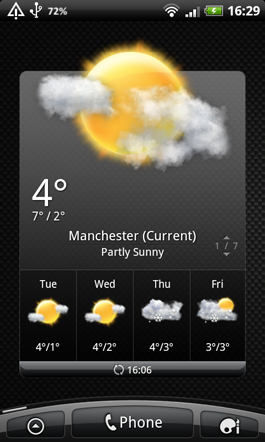 Android enhanced
With a 1GHz Snapdragon processor and 768MB of memory, the HD should go like the clappers and indeed it does. The OS is lightning quick and the multi-touch UI supremely fluid, making the HD every bit as fast in use as the iPhone 4 and that is a compliment no matter what you otherwise think of Apple's mobile.
The built-in storage runs to a healthy 1.5GB with an indicated 1.1GB being free for downloaded applications. Extra storage comes courtesy of a hot-swappable Micro SD cards, and HTC generously chucks an 8GB card into the box with the phone.
Both Android 2.2 and the QSD8255 chip under HD's hood are more efficient power managers than their forebears, but they need to be because the HD's battery has a surprisingly low rating of 1230mAh.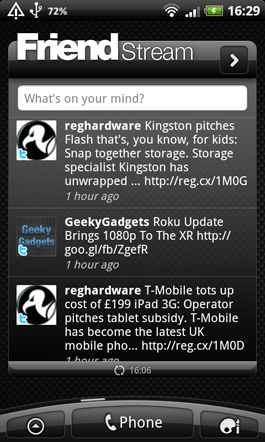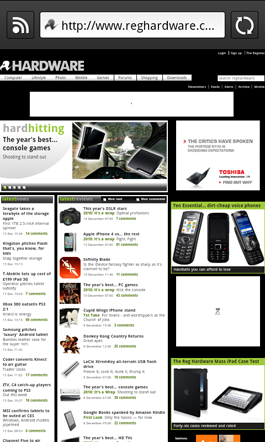 Social networking and browsing? No probs
Stick the HD in Flight Mode and loop a standard definition .AVI video - the HD supports Xvid/DivX natively - and you'll get about five hours out of a charge. But in everyday use, getting from dawn to dusk without a recharge is a challenge, especially if you use Wi-Fi or GPS for any duration, or just like a good chat.
Sponsored: Minds Mastering Machines - Call for papers now open