Pre-holiday chip sales go flat
Ho ho slow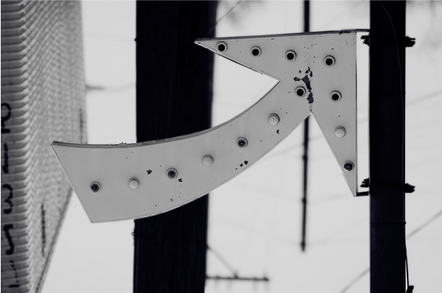 Global semiconductor sales as the world entered the 2010 holiday season, according to new data released by the Semiconductor Industry Association. The softening in revenues across all types of chips was inevitable given the massive recovery that the business had in 2010 in the wake of the Great Recession.
Don't get the wrong idea. The chip business is about as healthy and diverse as you could expect, and as demand for computers, handhelds, and myriad other consumer devices wiggle around, it will always have its seasonal ups and downs. You can see the usual wiggle of global chip sales – as well as the massive hole the Great Recession caused – in the chart below: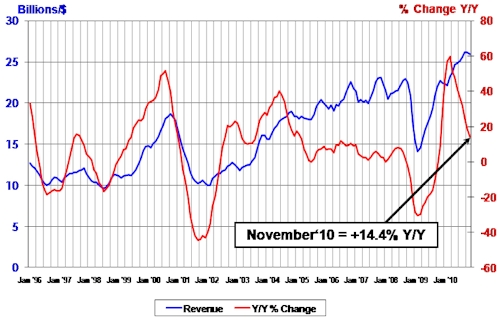 SIA's rolling three-month average for global chip sales and revenue growth
The SIA takes a snapshot of global chip sales every month for four major regions and then does a three-month rolling average to give what it believes is a more accurate measure of the health of the semiconductor business than a straight-up monthly sales level would give. In November 2010, SIA reckons that worldwide chip revenues hit $25.97bn, down nine-tenths of a percent from October's levels of $26.2bn. But on a year-on-year basis, November 2010's aggregate chip revenues rose by 14.4 per cent, up from $22.71bn in November 2009. That's when the chip biz was just starting to climb out of the Great Recession abyss and hit something akin to normal sales.
If the above graph is any prediction of performance, it would be a fair guess that the chip sales will be oscillating around $25bn a month, up a few billion dollars a month from levels set in 2006 and 2007. A lot depends on demand for PCs of all kinds and handhelds in 2011 and 2012. What seems equally likely is that competition among different chip platforms for small computing devices will put a damper on revenues as the focus of the computer business shifts slightly away from traditional PCs to netbooks, tablets, and smartphones with reasonable oomph. No matter what happens in the coming two years, SIA is pretty certain that December's numbers will be pretty good.
"Despite continuing macroeconomic uncertainty, the semiconductor industry is slated to close the year at record sales levels with year-over-year growth rates not experienced in nearly a decade," explained Brian Toohey, SIA's president, in a statement accompanying the chip sales stats. "The application of advanced technologies continues to further the proliferation of semiconductor content into a wider range of end products including media tablets, smartphones, e-readers, and automobiles, resulting in impressive semiconductor sales in 2010. We expect continued moderation in sales growth, in line with our November forecast."
Back in early November 2010, SIA forecast that chip sales for the year would hit $300.5bn, up 32.8 per cent over 2009's global semiconductor revenues. For the eleven months in 2010 that it has data for so far, SIA says that chip makers raked in $271.8bn, up 34 per cent from the 202.8bn in the January through November period in 2009.
The SIA's long-term forecast calls for chip sales to rise by 6 per cent, to $318.7bn, in 2011, with the market cooling off further in 2012, with only 3.4 per cent more growth to $329.7bn.
Drilling down into the November 2010 monthly semi sales, SIA says that chip revenues were off 1.6 per cent sequentially in the Americas region, to $4.71bn, but that worked out to 21.3 per cent year-on-year growth from November 2009. In Europe, chip sales were actually up 2.5 per cent sequentially and 13.3 per cent year-on-year, to $3.42bn, while in Japan semiconductor revenues were off nine-tenths of a per cent from October 2010 but up 8.3 per cent from November 2009. The Asia/Pacific region is still the largest consumer of chips, with $13.68bn in chips bought in November 2010, but that was off 1.4 per cent sequentially even though it was up 14.3 per cent year-on-year. ®
Sponsored: Minds Mastering Machines - Call for papers now open