Western Digital My Book Live Nas box
Homelan security?
Review Western Digital's My Book line of drives spans nearly all areas of external storage, supporting fast modern interfaces from FireWire 800 and eSATA to USB 3.0. Yet the My Book Live is network drive and, in terms of connectivity, sports nothing more than a DC input and a gigabit Ethernet port.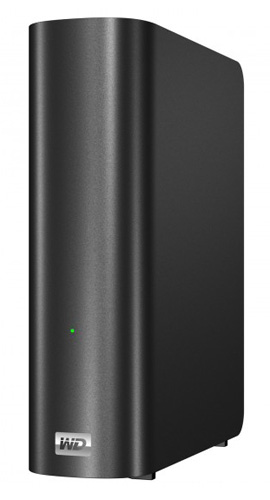 Silent running: Western Digital My Book Live
Available in both one and two terabyte capacities, Western Digital claims 100MB/s read performance for the My Book Live. WD's instantly recognisable My Book enclosure makes another appearance here, which is likely to disappoint some potential purchasers familiar with this design. Alas it's not the most stable upright drive and prone to topple with the slightest nudge – not exactly ideal when your precious data is spinning at speeds in excess of 5000 RPM.
Vertical challenges aside, the My Book Live is passively cooled, as always. For those wanting a quiet Nas box to sit on their desk, this is ideal. However, much like every other WD drive that has utilised this enclosure, the Live runs fairly hot under load.
Admittedly, I have been impressed by the performance of other models in Western Digital's My Book line in the past – notably, the USB 3.0-equipped My Book 3.0. So I had high hopes that the My Book Live would live up to its claimed 100MB/s performance.
Testing with Crystal DiskMark 3.0 using a 1GB file size resulted in a maximum read rate of 48.33 MB/s, just under half of what the spec suggests. Inevitably conditions vary and different file sizes may produce a peak throughput. Still, the My Book Live is certainly not the slowest Nas box I've encountered by a long shot. Yet while it apparently doesn't deliver in terms of claimed throughput, some of its other features certainly hit the spot.

Power and networking ports – yup, that's it for connectivity
COMMENTS
Re: These boxes still scare me
What does RAID give you? it might save you from a single drive failure, that's all.
An accidential delete, theft, water, power surge and both mirrors are gone, but use an (additional) USB drive to backup the data, lock it away (pref in a fireproof box), or a second box on the network (in the garage/loft) that rsyncs overnight and (for less than the price of building your own dedicated NAS box) you have something far more robust.
Seriously, a single drive is (like you say) scary if your data is important, but having known a company that went under (pretty much because) they naively relied on RAID only to have the entire server and backup USB drives stolen, when 1Tb USB drives can be had for £50 and a fire resitant box for £30, just thinking RAID is all you'll ever need will disappoint when you could have had a cheaper and better solution, if you're going to do something to prevent loosing [:-)] your data don't do something half arsed.
Have to laugh
The reviews on this site are usually not much more than a jumped up press release regurgitation. Why is anyone expecting any useful information?
Every single review usually has requests in the comments for Simple things that have been quite obviously missed off the review.
The Reviews are usually questionable and verdicts often a joke.
I wonder sometimes if they actually have the product they are supposed to be reviewing.
Amazed at the transfer rate
As I have a WD sharespace and it can barely manage half that. They must have finally put a decent processor in the thing, because the sharespace hits the CPU limit when chucking out 24MBps, and that's using ftp. Samba and scp are even worse.
RE: Power usage?
I suggested this to The Reg a couple of years ago and they do it sometimes...., but not always as I believe they should.
Green power
Guarantee it'll be using one of those shitty green power drives to keep consumption low. The first hard drive failure I've had in 14 years in IT came via a My Book drive fitted with one of these. Split the case open and connected another drive -> case worked fine. Put the green drive in 2 other enclosures -> drive fired up then cycled down, repeat ad-nauseum. Piece of shit.