From Antennagate to WikiLeaks: the year in tech lunacy
Jobs, Schmidt, Ellison, and other high comedy
Mad, bad, and idiotic: Oracle's Ellison on HP's board
Larry Ellison is famous for verbally abusing the competition. PeopleSoft, Microsoft, Siebel, SAP, BEA Systems. Take a number and get in line, bitches. But this year, Ellison topped even himself. He started abusing a major Oracle hardware partner.
After calling the HP board "idiots" for ejecting Mark Hurd, Ellison hired him. And when HP sued Hurd to stop the hire, Ellison called the suit a "vindictive" move that made it "virtually impossible for Oracle and HP to continue to cooperate and work together in the IT marketplace."
HP's decision to replace Hurd with ex-SAP CEO Leo Apotheker only made Ellison madder. Apotheker was axed by SAP after less than a year in charge, and Ellison is convinced Apotheker knew about the industrial espionage that SAP subsidiary TomorrowNow perpetrated against Oracle. In 2010, Oracle went to court over the TomorrowNow incident, and it dispatched PIs to find Apotheker and put him on the stand (but to no avail). "I'm speechless," Ellison told The Wall Street Journal on Apotheker's appointment. "The HP board needs to resign en masse ... right away. The madness must stop," Ellison said.
Yes, Larry, it must.
Fear and Loathing in the chip business
In November, AMD president and CEO Dirk Meyer told Wall Street analysts that Intel can't be trusted, and that it continues to frightens customers. Apparently, that $1.25bn IP and anti-trust settlement between Intel and AMD changed just about nothing.
The companies have agreed to cross-license their technologies for five years while Intel abides by a set of "business practice provisions", and AMD said it would bury 2008 claims that Chipzilla signed anti-competitive and exclusive arrangements with a laundry list of major OEMs, including Dell, HP, IBM, Lenovo, Gateway, Acer, Sony, NEC, Toshiba, Fujitsu, and Hitachi. But AMD hasn't buried the hatchet.
"We opened the door to the potential of a more free and open competitive environment," Meyer said. "Frankly, we still talk to customers who are scared ... and [we] wonder whether the regulators are going to be diligent, and wonder whether Intel is going to follow the terms that they agreed to."
So, how long until the next suit?
Oracle and open source: Where's the open bit?
Oracle closed its acquisition of Sun Microsystems in 2010, and it promptly put a boot in the ten-year-old notion that in order to succeed in open source, you have to collaborate with others in the community. One by one, Oracle reclaimed the MySQL, OpenOffice, and OpenSolaris brands and anchored them to its own product roadmap. Open sourcers participating in these projects protested vehemently, but they were ultimately swept aside.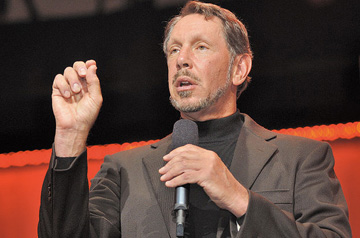 Ellison: backtracking on a decade of open-source community theory
Then Oracle refused to grant the Apache Software Foundation a license for its Java implementation, Project Harmony. That set the scene for a showdown, and things got even hotter when Oracle sued Google, accusing the giant of violating Oracle's Java patents in Android, which uses part of Harmony. Oracle also lined up other players against Apache, convincing IBM - one of open source's biggest stakeholders - to switch allegiances from Harmony to the rival OpenJDK.
In a moment of cognitive dissonance, Oracle reckoned it still respected ASF and wanted to work together despite the, ahem, "disagreement" on licensing.
Apache responded by becoming the first organization to resign from Java's governing body. In leaving, Apache accused Oracle of seriously interfering with the governance of the Java ecosystem and accusing its fellow members on the Java Community Process of failing to stand up for the rights of those implementing Java. ASF was blunt, telling Oracle to honor the rules of the JCP, and Oracle responded by ignoring the details of the ASF's warning and telling the organization it was time to move on.
When Sun was overseeing Java. Oracle had supported ASF's right to a license. But in 2010, it executed a perfect U-turn – without explanation or remorse. This time, rather simply cutting ties with a few individuals working on OpenSolaris and OpenOffice, Oracle succeeded in alienating a respected industry group that's home to more than 100 popular open source dev projects including Ant, Maven, Tomcat, HTTP server, Jakarta, and newcomers like Hadoop and CouchDB.
Leave it to Oracle to do open source without the open bit.
Sponsored: Minds Mastering Machines - Call for papers now open