Moviestorm virtual movie studio
Create your own animated productions – very, very, slowly.
Animated character
I couldn't help but notice how low the polygon count is, and no wonder, if everything is streaming to and from your Internet connection. Why doesn't Moviestorm just offer it as a stand-alone? I could see the necessity for web access and its inherent tardiness becoming a real problem if you wanted to do a crowd scene.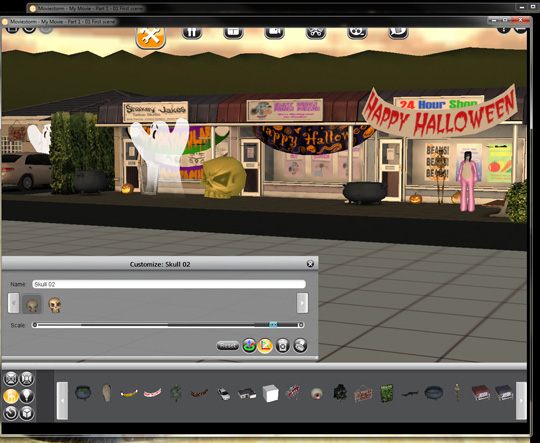 Scene changes
Trying to keep it simple I created a Halloween romance from one of the templates. With the amount of time I spent fiddling with the clumsy interface and waiting for stuff to load, I actually started feeling like Francis Ford Coppola on the set of Apocalypse Now – yeah, it was that long and painful. I can't imagine how long this would have taken me if I had decided to create a movie from scratch.
Sample Movie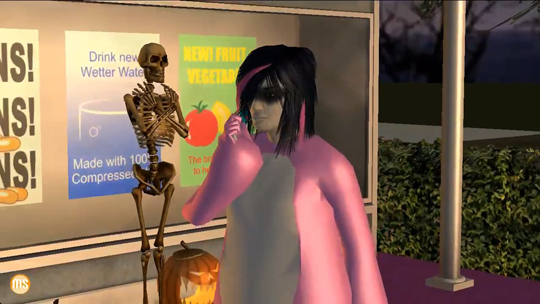 Click to view the Lucy and Dead Elvis Halloween themed clip
Considering the amount of time and effort I put into making my movie, the outcome was decidedly underwhelming. I can imagine if you have nothing to do in your life and are sick of spending all day on Facebook then this would be a great time filler. For me, it was unbearable.
Verdict
Apparently the target audience is for Moviestorm is "predominantly young amateurs with little or no experience". Yet I feel that the lag and low-res graphics will put off people who might otherwise wish to gain knowledge of professional level 3D modelling software such as Maya. While the basics are all there, it seems the on-line approach isn't that well suited to authoring 3D animation. While Moviestorm endeavours to be all about the funny, it comes across as a very long-winded joke to get to the punch line. ®
More Home Entertainment Reviews…

The year's best…
Console games
SCE
Gran Turismo 5
Top Ten
Arcade Classics
Cyberlink v. Nero
Authoring suites
Sponsored: Minds Mastering Machines - Call for papers now open

Moviestorm virtual movie studio
On-line 3D animation software for those with directorial aspirations but can't afford actors.
Price:
£50 or £7 per month RRP