Yahoo! buzzing over 'nonce Pope's' Christmas message
Seasonal outbreak of discomfort and joylessness
Yahoo!'s buzz service took a pop at the papacy overnight, apparently informing its readers: "Nonce Pope to deliver Christmas message on the BBC".
Buzz, for those who haven't noticed, is a Digg-alike service allowing Yahoo! users to flag up content – and crucially giving them the ability to add in their own headline. And for those not familiar with the argot, "nonce" is a UK slang term for paedophile.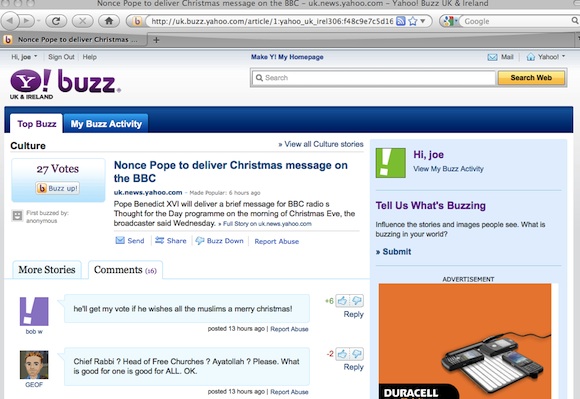 Benny 16 buzzes up
The posting – linking to a Sky News story announcing that the Pope would be contributing to BBC Radio 4's Thought for the Day strand – was made about 14 hours ago. Which is clearly about the time many social networkers are getting to grips with the third of their chosen Christmas spirits. ®
Sponsored: Are DLP and DTP still an issue?