Daily Express social network pwned by slew of smut
Middle England's MySpacey mouthpiece stuffed with sex spam
The Daily Express MyExpress web service has been swamped by masses of sex spam text in a mighty pwn which may have begun two years ago.
Reader profiles on the site have been turned into handy catalogues of naughty practices, seemingly by Eastern European hackers and to no obvious end. The reams of text have the appearance of link spam, but without the links.
The service offers readers their own "personal profile on the Daily Express website", enabling them to organise their commentard activities and suchlike. According to the bumf "it's a completely free service that allows you to interact with the website and other MyEXPRESS users, as well as customise the website in a variety of ways". The most popular profiles conform to the expected demographic: retired readers who are displeased with the current political establishment and not very big on Europe.
Many such fine upstanding profiles have been effectively buried under a vast amount of explicit material, trumpeting "pregnant sluts masterbating" and "sarah michelle gellar haveing sex".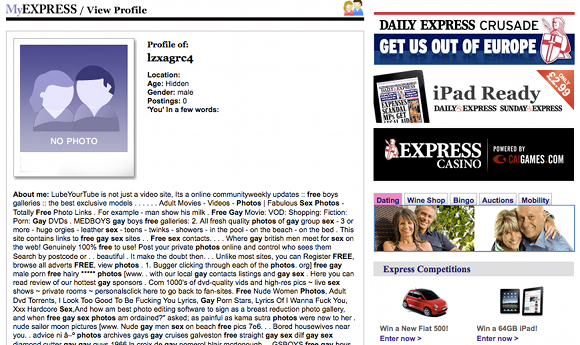 Come for the moral outrage, stay for the man milk.
Luckily for the Express, the damage appears to have been limited to the depositing of large quantities of lewd and suggestive material alone, without the dodgy weblinks otherwise associated with the practice of link-spamming.
The filthalanche seems to originate from as long ago as 2008.
A straight-faced search of the Express site for stories with a gay or pornographic angle turned up almost 800 hits of the sort illustrated here, with the vast majority being of a nature and content guaranteed to curl the hair of your average MyExpress reader. (A few were genuine Express stories, as the paper does appear to report intermittently on stories that are characterised by "gay sex" and "scandal".) A wider search using different combinations of terms including words like "gay", "porn" and "sex" unearthed a range of different faux profiles.
Most of these are claimed by an individual going by the nickname of "proverka", which seems to be Eastern European for "purge", appropriately enough.
The hack appears relatively harmless, but if the text has been in situ for the best part of two years, it makes for a rather damning indictment of MyExpress's housekeeping abilities.
The Express has not yet responded to our request for comment. At time of publishing the offending profiles are still displaying a smorgasbord of smut. ®
Sponsored: Minds Mastering Machines - Call for papers now open