This year's classy compact cameras
EVIL winners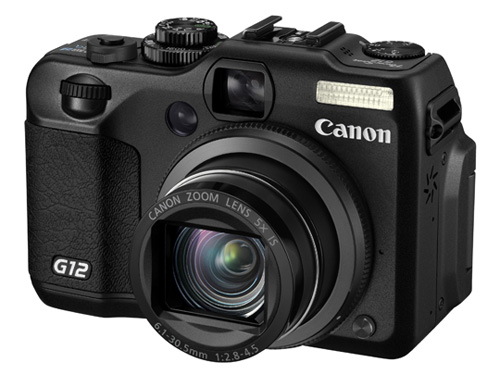 Canon PowerShot G12
When the Canon PowerShot G12 appeared there were relatively few physical changes to upset fans of this versatile compact camera. Look at both the G11 and G12 from the back and it was almost like a spot the difference competition. Up front though, the G12 sported a dial wheel, which while handy to have for white balance and the like, it didn't always appeal to the grip of some users. However, in keeping with 2010's must-have photographic function, the G12 offered 720p HD video recording.
Now, a fair few G11 owners didn't see the G12 as an upgrade worth buying in to, but the devil was in the detail with this model. ISO could be notched up in 1/3 increments, a level function was included to keep horizons straight and Hybrid IS was on offer that could compensate for lateral shift issues that can occur in macro photography. A new AF tracking mode was added along with a high dynamic range (HDR) shooting mode. And like the G11, this camera could also utilise a the TC-DC58D 1.4x teleconverter, so while it lacks the versatility of an interchangeable lens camera, it does have some flexibility and certainly a ton of accessories including an underwater case. In fact, the G12 could also accommodate a lens filter adapter. For a camera sporting 1/1.7in sensor, the image quality is as good as it gets at this level and while the Canon G12 is certainly a well-equipped compact, when you're spending this kind of money, that sensor size may well show that the devil is in the detail.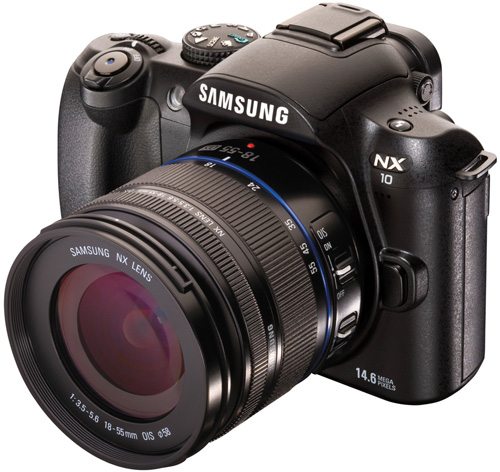 Samsung NX10
With the GX20 DSLR seemingly awaiting retirement, Samsung's NX10 EVIL camera, effectively became company's flagship model in 2010. With only three NX-mount lenses available, most would have have needed a pretty convincing argument to consider this model, but Samsung had thought of that. The NX10 came with an APS-C CMOS sensor which, give or take a millimetre, matched those you'd find on Canon EOS, Nikon DX, Pentax and Sony Alpha DSLRs. This combination of large 14.6Mp sensor on a compact hybrid camera was a tempting idea and one that Sony aped with its NEX models that appeared some six months later.
If you had any moviemaking ambitions, it could shoot at 720p/30fps HD video and overall, Samsung's NX10 proved a very capable performer. Solidly built, it handled well and exceeded expectations in terms of picture quality. The metering was almost always spot on and the camera delivered natural, well-defined images. Although Samsung opted for the megapixels wow factor – instead of having a lower count and bigger pixels – for a sensor of this size, the overall noise performance was respectable rather than outstanding. The initial choice of three lenses may have appeared limiting – the 30mm f2 pancake lens proved to be a real crowdpleaser – however, an expanded range of eight lenses was promised and adapters appeared from the likes of Novoflex to accommodate other optics. The NX10 wasn't just a one-hit wonder either, as Samsung expanded the range with the NX100 compact and the NX5. As far as bang for buck goes, the NX series certainly gave the Micro Four Thirds camp something to think about.
Sponsored: Minds Mastering Machines - Call for papers now open