Ideological, Captain
Android or iOS? Again, a subjective choice. It's kind of like the old UIQ vs Series 60 debate in the early days of Symbian smartphones: lines will form behind either according to each user's sense of aesthetics and needs, but mostly because of the hardware vendor they favour.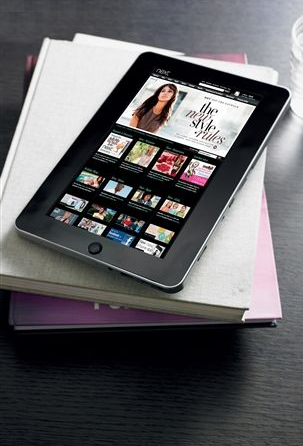 Next's 10in Android tablet: fashionable OS?
Time was when you bought a Sony Ericsson and got UIQ, or chose Nokia and got S60. Likewise, most people beyond, perhaps, the Reg's readership of übergeeks, will select Samsung - or LG, Toshiba, Acer, Asus, Motorola, etc - first, and Android second, just as a vote for Apple is inherently a vote of iOS.
Android works, but I personally prefer iOS, its walled garden holding no fear for a capable wall-climber like me, and which is clearly not bothering the majority of the many, many folk who've owned iDevices over the years. Open Sourcers may take offense, but ordinary punters seem unconcerned.
The Galaxy Tab, then, is the optimum choice for a quality tablet. If money's a worry, there are always the cheapy Chinese one - or Viewsonic's ViewPad 7, which is only slightly cheaper than the Tab, but comes with a slower CPU. It has 3G, but the capacitive touchscreen is just 800 x 480 and it comes with a mere 512MB of storage, though it can use any Micro SD cards you may bring to the party.
In use, though, the iPad feels more polished and just more darn desirable than either the ViewPad 7 or the Tab. The anticipated introduction of the iPad 2 early next year is only going to make the it more so, no matter how much spleen anti-fans will vent.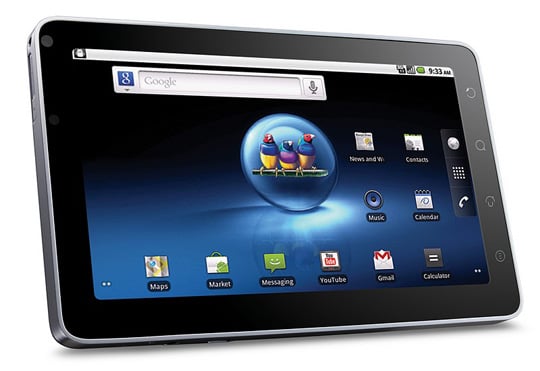 Viewsonic's ViewPad 7: slower, less capacious the than Tab, but cheaper
But 2011 will also bring a raft of fresh entries into the market - all those big name vendors who've held back to await a better, more tablet-friendly version of Android than 2.2 - aka Froyo - that Samsung and Toshiba opted for.
It'll pay to wait a while and see what Apple and the new raft of rivals come up with. ®
Reg Ratings
Apple iPad 3G 85%
Apple iPad Wi-Fi 80%
ViewSonic ViewPad 7 75%
Samsung Galaxy Tab 75%

Apple iPad vs... the rest
COMMENTS
Galaxy Tab
I have a Samsung Galaxy Tab, and it feels like a poor cousin to an iPad.
Comparing the display in terms of the screen diagonal is misleading. What you should say is that the Tab's screen is *half* the size of the iPad's, but it's still too big to carry around in your pocket. So you have all the limitations of a bulky device, but with a screen that doesn't justify it.
The graphics are not as smooth as the iPad, despite having a similar spec processor.
Most annoying feature is the screen rotation detection, which forces you to either: Hold the dvice with all the care of a safe-cracker, lest your hand shake and the screen clunkily re-draws into landscape, you over correct and throw it back the wrong way, repeat; - or - lock it permanently. (Biggest bug bear here, you can't lock the screen in Landscape from the web browser, because it hides the menu bar. You have to quit browsing, go back to the main menu, lock the screen, and then go back. Argh)
The camera may well be a boasted 3MP unit, but there's no zoom and the focus is poor. The less said about the front facing camera, the better, it produces super grainy images with the screen rotation not recorded in the JPEG. The automatic panorama mode is a neat feature, until you find that the images are only 800x600, which makes them pretty much unusable for anything. (The Tab offers no way to showcase them, any at event). Video calling *is* supported, but only with Samsung proprietary platform. There's no standard 3G video calling support. (Which the Reg slammed Apple for, but remained totally silent about on this device. Double standards anyone?)
So you can only call someone else who also has a Galaxy Tab. With them.
Like the iPad, the device will only charge from the supplied charger. Regular USB doesn't pump out enough juice to charge it otherwise. Unlike the iPad, it doesn't use the same cable that all your friends and colleagues already have for there iPhone/iPod/iPads. Lose Samsung's supplied copycat cable, and you have to buy another. (From where, I have no idea).
Somehow the headphones are also proprietary, try to use a (de-facto) standard iPhone headset, and it'll shut off the mic on the device, but not use the one on your 'phones, so you're leaft shouting to no one. The only other option is having the device on loud-speaker and shouting at it Dom Jolly style.
Things I won't even start on, in case I explode. Flash support (ahahahahahahaha, enable at your peril), Swype (note: learning my typing style != remembering every single typo I ever made and substituting real words with them /every/ time). The android marketplace (or beta-shop, as it should be called. I *like* apple weeding out the crappy, unfinished dross, thanks)
Good points, and there are some. it's sturdy. even though it's plastic it feels quality, and mine has taken a few knocks well. The battery is excellent, will easily go all day. The extra screen space really makes some apps come alive.
The Mobile AP support in android 2.2 is excellent, and has helped me out several times already. Email works well (though no push), but the supplied MS Word reader is piss poor, Google Docs and Documents-to-go do a much better job.
I'm looking forward to 2.3 and I hope many of the niggling features can be ironed out.
So, in conclusion, it's 1/2 the size of an iPad; doesn't work quite as well, still needs a bag to be carried in, doesn't do video calling and costs the same.
I got one free* with my mobile contract though, so I'll see where it goes.
How Refreshing ...
... to read informed comment from someone who can make an objective comparison.
Thanks jamie 5.
How about the Vega
No mention of the Advent Vega ! For £250 plus a 30 minutes to add the mods (market and all Google apps) it is an incredible bargain. Paul O'Brien at the Modaco site has worked wonders with the basic machine plus the retailers (Dixons) are providing upgrades and support. If I sound like a fanboy it's because in this case I am.
Typewriters
I find it strange that people classify the ipad as a toy because they don't have a use for it. I don't have a use for baby monitors, not having kids, so does that make them a toy? What about MRI scanners? I don't need one of those right now either, so are they toys too.
I find my ipad to be an excellent portable typewriter; it's light, easy to use, doesn't get hot, is completely silent (even whilst typing), turns on and off instantly so I don't forget something whilst booting up, can be used in bed, lasts all day, lets me check my emails, surf the net, listen to music, read books (although it's not great at that), and even play games. All for £429, plus £6 for Pages, using my WinMo phone as a hotspot. I have a two hour bus commute several days a week and it's perfect for that. Pages even has a word count function now PcPro publicly berated its absence.
I have an Eee netbook too, which I used for several weeks until I got fed up with the noise, the heat, the bulkiness (when carried alongside my work laptop), the minute or more it took to boot up and shut down with AV software running, and the old fashioned ergonomics. Granted the netbook could use Truecrypt and MS Office, which has some compatability advantages with my PC, but it doesn't outweigh the negatives. Not even close.
I wouldn't use the ipad for serious document editing or page layout, just content creation, but that's the job I need it to do and it's therefore far from being a toy. The fart apps are just a bonus.
There is of course the godawful abomination that is itunes. I just email my documents back and forth and avoid using it. If Motion Computing made their tablets for half the price, then that would see the ipad in trouble, if only because of itunes.
What you have to remember about meejahoars is
That they only hang out with other meejahoars and marketdroids.
And since everyone who pours free booze down their gullets is packing a iFad and yakking on about it, they naturally assume that everyone who matters has one, and is obsessed with it. The alternative - talking to non meeja people - is just to horrifying to contemplate. Why, some of those proles might expect you to pay for your own lunch!