Apple iPad vs... the rest
Duking it out with the Galaxy Tab et al
Spec vs spec
Incidentally, a look at the two devices' specs reveals that the iPad is actually thicker than the Tab - 13.4mm to 12mm - but that ignores the iPad's tapering edges, which make it not only seem thinner but also much more comfortable to hold. The Tab, by contrast, is thick right up to the edge.
The Samsung is a lot lighter on paper, but it's not appreciably so when you have it in your hand. Egonomics count for a lot in this category, and the iPad has 'em in spades.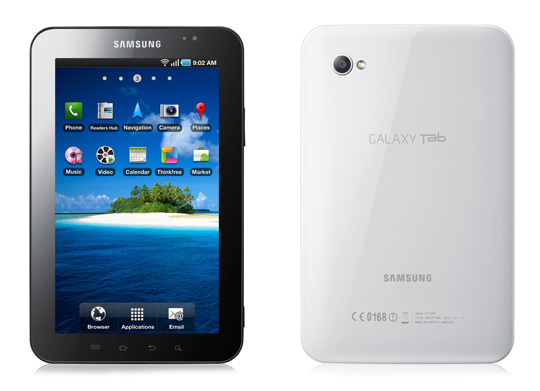 Samsung's Galaxy Tab: BFP*
If the iPad takes the crown for look and feel, the Galaxy Tab has the longer feature list. The iPad's Flash storage is unexpandable - the Tab has a Micro SD slot. It has a 3Mp camera on the back, and a lesser one on the front. I don't think too many tablet buyers will be expecting their gadgets to double-up as still or video cameras, but the iPad's lack of a webcam is a genuine deficiency. No video calling here. And while some may wonder who actually does video calling with a phone, that narrow view ignores the zillions who do it on a desktop or laptop computer and would do it on a tablet if they could.
The iPad's lack of expansion would be less of an issue, perhaps, if getting content onto the device was easier than it is. Some folk loath iTunes, but I've never had a problem with it as a library management tool. But I hate Apple's insistence that iTunes is the only way to load up content onto the iPad. The Tab uses Samsung software, which is generally held to be weak, but it also taps into other media apps and can operate as a USB mass storage device. Even if it didn't, the use of removable storage means you can get files onto the Tab that way.
Apple's format limitations can be largely limited with free apps - VLC, most notably - but the Tab handles more out of the box. Yes, you can get videos and pics onto the iPad using Apple's iPad Camera Connection Kit access, but it's £25 extra and it's a clumsy way to put movies on.
There's no difference between them when it comes to what they can be used for. There are plenty of apps to fill gaps in the out-of-the-box experience. Similarly, Tab and iPad are well matched when it comes to connectivity and such.
*Big F**king Phone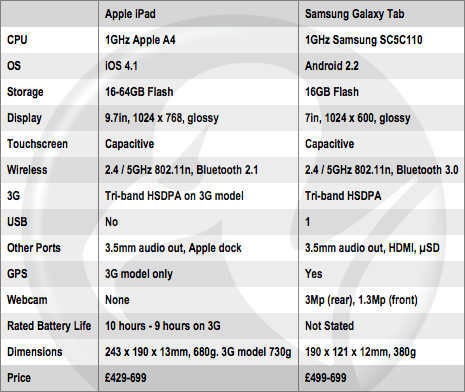 Sponsored: Minds Mastering Machines - Call for papers now open