Lara Croft and the Guardian of Light
The Tomb Raider comes to the iPad
Control freak
Combat is more gruelling than puzzle solving, because it's harder. You control not only Lara's movement but, separately, the direction in which she fires her twin pistols, spears or any of the other weapons she acquires during the game.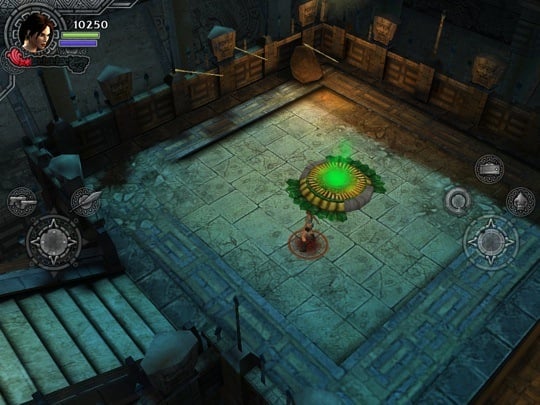 Seven rooms o' gloom
It's darn tricky: movement is controlled with a virtual joystick on the left side of the screen, along with a set of icons for weapon selection. Aiming and firing is literally on the other hand, managed with a second joystick.
Grabbing objects, such as roll-along balls and grappling hooks, involves tapping icons that pop up on the screen as you near them.
Control is the one real weakness with the iPad version of Lara Croft and the Guardian of Light. The game was developed for consoles, and with any console controller you can steer your two joysticks and stab at various buttons at the same time.
Not so the iPad. Changing weapons mid-fight, for example, requires taking your thumb off either the movement or the aiming joystick in a way you wouldn't do on the systems Lara Croft and the Guardian of Light was created for.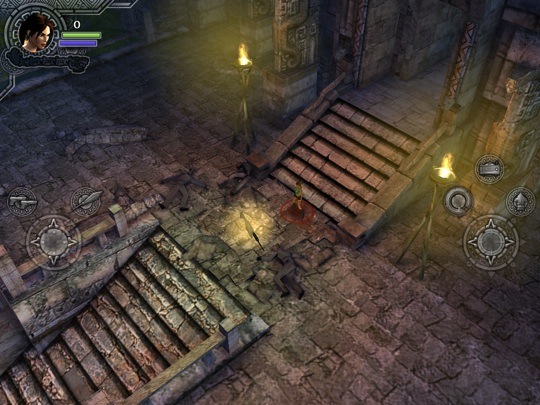 Gun intended
With physical joysticks, you know your thumbs are on them. Not so the touchscreen. I found my thumbs often unwittingly straying beyond the range of the joystick until Lara suddenly stops moving or firing. Getting back involves taking your eye off the action, even momentarily, and it can be fatal.
Likewise, it's hard not to press a physical button when you mean to, but it's very easy to do with a touchscreen - or it is here, at least. Stab too quickly in the heat of the action and you don't grab the object you wanted to.