David Attenborough dino doc shows limits of 3D TV
Documentary evidence
The future of 3D TV is "event television" reckons eminent broadcaster Sir David Attenborough, the implication being that stereoscopic broadcasting isn't much cop for anything else.
Speaking at the premiere of his upcoming Flying Monsters 3D documentary, Sir David likened 3D to the arrival of black-and-white television in the early 1950s and to the subsequent move to colour broadcasting in the late 1960s.
In each case, he said, viewers got in front of the screen simply to revel in the sheer newness of the medium.
Many of us have done the same thing, buying CDs, DVDs and Blu-ray Discs of music and movies we're not particularly keen on buy because we just have to experience the new technology.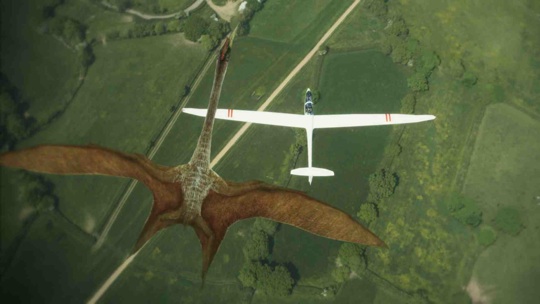 Flying Monsters 3D: the parallax view
But it didn't take long for us or TV's earliest viewers to move beyond the novelty value.
That's certainly true of 3D too, but until then, 3D will only be relevant to programming that punters - and plenty of them - are willing to sit down and watch: in short, event television, as Sir David says.
Ironically, Sir David's own effort shows why. Flying Monsters is a superb documentary, detailing the evolution of pterosaurs - flying dinosaurs - with as much erudition as computer animation. But throughout its 50-minute or so length, only a few shots really benefit from 3D.
In two sequences, a pterosaur fossil is lifted out of the rock matrix in which it is embedded to become a three-dimensional object. Only an interactive model on a computer screen gives you such a sense of the spatial arrangement of the bones as the stereoscopic view does.
Likewise, a tight close-up of a second fossil gives the viewer a view of the skeletal structure that 2D simply can't deliver.
That said, of course, the rest of the programme was no less engaging in 2D that 3D. Indeed, the producers were still forced to fall back on old tricks like placing Sir David and prop well to the foreground in order to give more ordinary scenes enough depth cues to create a 3D image.
Shots taken from a helicopter high above Dorset's so-called Jurassic Coast, on the other hand, are barely perceptible as 3D at all.
Makers of 3D programming are clearly hard pressed to present imagery that can actually be improved by 3D.
The trouble is, without the gimmicks, the novelty of the technology will wear off sooner rather than later.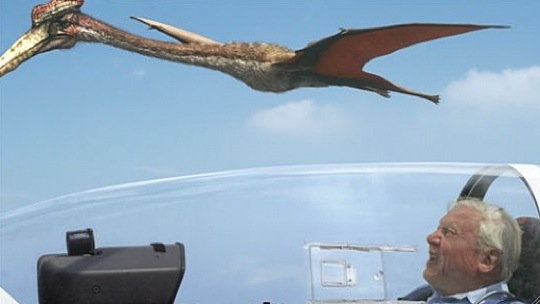 Quetzalcoatlus and I
Events will hold back the decline: you can bet broadcasters are lobbying to show next year's Royal Wedding in 3D even as we speak. But it's hard to conceive that, say, Sky's 3D transmission will really immerse you in Westminster Abbey more than the BBC's two-dimensional coverage will.
Unless it can do exactly that, 3D TV will remain just as much an evolutionary dead end as the flying reptiles that are the subject of Sir David's documentary. ®
Bootnote
Flying Monsters 3D will be transmitted on Sky 3D on Christmas Day at 6pm - right opposite the Doctor Who Christmas special. Oops.
Sponsored: Minds Mastering Machines - Call for papers now open