Infinity Blade
Is the iDevice fantasy fighter as sharp as it's claimed to be?
Mage hard
You'll certainly be steering his eyes around the castle: Infinity Blade's graphics don't inspire some rubber-necking in the early stage of the game. No question they look good, but there's nothing here you won't have seen before on games like NOVA and Assassin's Creed. The art is great, but this is not a revelation in iPad gaming graphics. It's no more detailed or smoothly rendered than id's Rage HD, for example.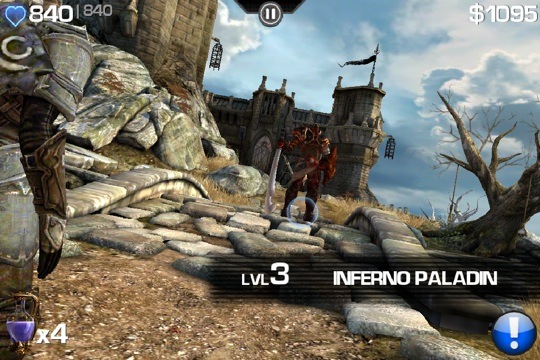 None shall pass... NONE shall pass
And if the visual wow factor ebbs after a few runs round the track, likewise you begin to tire of treading the same ground, battling baddies at exactly the same points. This is not a game to got at continually until you complete it. You'll want to play an hour or so here, an hour or so there. Beyond the sheer bloody hack and slash of it, there's nothing to sustain engagement beyond three or fours hours at a time.
So far, Epic is only offering the solo game, but it promises multi-player action via Apple's Game Centre service "soon". Ditto even more bizarrely named equipment to cheer the Gary Gygax in all of us, plus a "new area to conquer", the castle's dungeon. Whether these will be free or in-app purchases remains to be seen.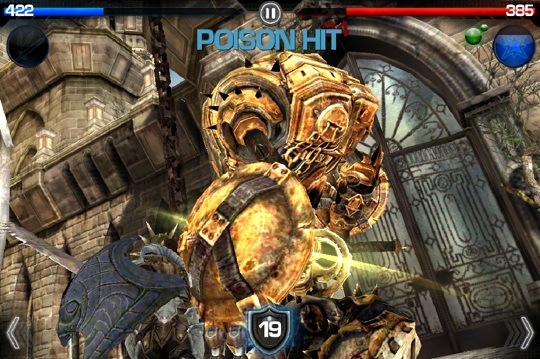 Toxic avenger
If they do cost more, don't feel bad about it. At £3.49, Infinity Blade is no more expensive than a London pint and will last considerably longer. Even if you only play it once or twice, for a couple of hours a go, it's not bad value - doubly so since Epic makes no distinction between iPhone and iPad versions.
Verdict
There's basically bugger-all to Infinity Blade beyond a little digital tourism at the start and a lot of frenetic mano é mano mauling afterward. The experience mechanism adds an extra dimension, but it doesn't quite make up for all the repetition - character moves are used over and over again, battles always take place on exactly the same spots. There's no question that Infinity Blade draws you into its world, small though it is. I just wonder how long it'll keep you there. ®
More Fantasy Games Reviews

Assassin's Creed:
Brotherhood
Fable III
Castlevania:
Lord of Shadows
Lara Croft and
The Guardian of Light
Sponsored: Minds Mastering Machines - Call for papers now open

Infinity Blade
Enthralling hack'n'slash fantasy fighting marred only by repetitive encounters, a limited level and on-the-rails progression. iPad (tested) and iPhone 3GS, 4