Infinity Blade
Is the iDevice fantasy fighter as sharp as it's claimed to be?
Hack, hack and hack again
But combat is fast, furious and engaging. In early fights, the game guides you through some basic strokes and blocking manoeuvres, but after that you're on your own, left to swipe your finger frantically back and forth across the screen, tapping rapidly to push back locked weapons and pausing only to stab at the dodge or shield buttons, or the mighty bash and magic icons, which charge up as you fight.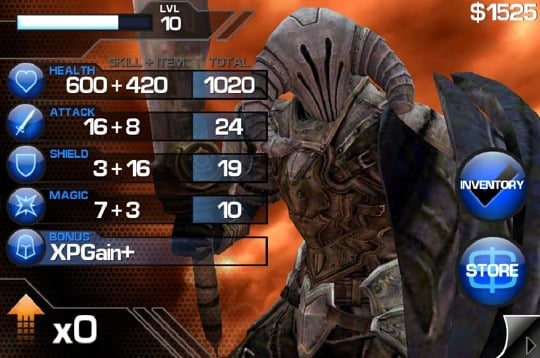 Level headed
Tap the Spell button and you have to draw out the given symbol on screen. Careful though, a whack from your opponent will put you off.
How much of your fight is luck and how much is the judgement of an opportunity grabbed slash isn't clear, but that's probably true of real hand-to-hand combat. The action is real-time third-person, but the viewpoint is close enough that it feels almost like an FPS.
Precious little help is provided - it's left to you to spot in the opponent info panel you can pop up that the Feral Troll in front of you is impervious to swords. Switch to an axe, and you're ready to fight. No axe? Buy one from the ever-present shop with the gold you've amassed - unless you've spent it mastering the equipment you have.
Mastering weapons, rings and so forth gives you points to spend on improving your stats. But a mastered weapon conveys no experience points after a fight, so you have to judge your upgrades carefully. And, like real life, you're encouraged to upgrade whenever possible.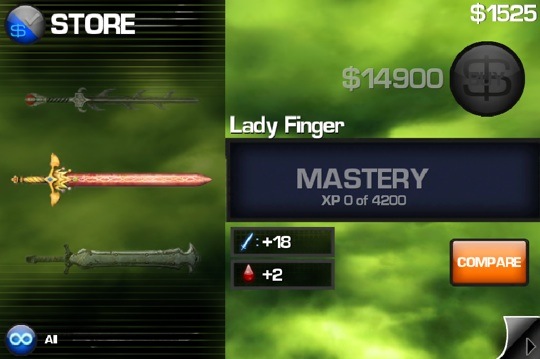 And what this lady can do with her finger...
Another RPG elements missing here is the notion of class or profession - you're a fighter who can do magic. But by applying the stats points you gain to either Attack or Magic, you can steer your unnamed character accordingly.
Sponsored: Minds Mastering Machines - Call for papers now open