Microsoft wins tasty US federal gov agency cloud contract
This time Google gets gripey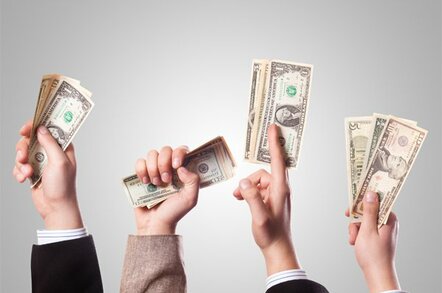 Microsoft secured a cloudy contract win with the US Department of Agriculture (USDA) yesterday in its latest cat-and-mouse play with rival Google to score lucrative deals with government bodies Stateside.
Just last week, Google scooped up 17,000 government drones from the US General Services Administration (GSA) as part of a five-year, $6.7m contract that was handed to Unisys Corp.
But Microsoft's win on Wednesday eclipses Google's latest effort. The software giant inked a deal that covers 120,000 USDA workers whose systems will be migrated to Microsoft's online versions of Exchange, SharePoint and Office Communications over the next month.
"USDA's IT modernisation will allow us to streamline our operations and help us use taxpayer dollars more efficiently. With a focused cloud roadmap, we saw a clear opportunity to achieve our cost savings and consolidation goals, and tap into the promise of the cloud," said USDA CIO Chris Smith.
Financial terms of the agreement were not disclosed.
To date, USDA staff have been using 21 different email systems across the department's office locations.
Microsoft said that it has 500 state and local governments on its cloud computing books, but the USDA deal is significant because it is the first federal agency to have signed up to the company's online offerings.
"From a momentum perspective, I think this announcement is going to be a phenomenal catalyst to drive more interest from the federal CIO community to think about moving their full messaging suite applications to the cloud with Microsoft," said Redmond's US public sector president Curt Kolcun.
According to Information Age, Google was extremely peeved with the USDA's decision to sign up Microsoft.
A spokesperson apparently told the publication that it had been frozen out of the USDA tendering process.
"We were not given the opportunity to bid for USDA's business," claimed the Google spokesperson. "When there has been a full and open competition, customers have chosen Google Apps, and taxpayers are saving millions of dollars."
Earlier this month MS badmouthed Google following its successful cloud deal with the GSA.
"There's no doubt that businesses are talking to Google, and hearing their pitch, but despite all the talk, Google can't avoid the fact that often times they cannot meet basic requirements," said Microsoft's senior director of Online Services Tom Rizzo in a bitchy blog post. ®
Sponsored: Minds Mastering Machines - Call for papers now open