There's an ape for that
Fail to figure out after six or so goes and you'll gain the option of having the level played out for you by Super Kong. Smartly, SK doesn't get everything, so there's still replay mileage to be had after you've watched him do his stuff, but he's a godsend on DKCR's boss levels, which, like so many of their kind, require you to follow a tedious set of prescribed actions over and over, error free, until you prevail.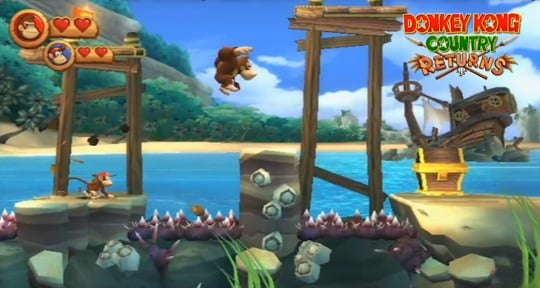 Might as well jump
The boss levels are the game's only real weakness and mark the only time I felt like chucking in the towel.
I didn't though, and neither will you. Nor will you tire of it. While the basic game mechanic is the same throughout, re-creator Retro Games has chucked in enough variations - or borrowed them from the original - to keep DKCR fresh throughout.
I particularly like one early level in which tsunami approach you from the backdrop until the break over the rocks and the path in the foreground, washing away all in their path - you included if you've not tucked down in the leeside of a rock.
Other hazards include cannon balls fired from nearby pirate ships, giant octopi, venus flytraps and falling totem poles, and that's in addition to the customary array of beasties to jump on top of. Not one level feels the same as the other. Exploring the periphery of the lush screenscape is usually rewarded with bonuses, all helpful but not essential to completing the level.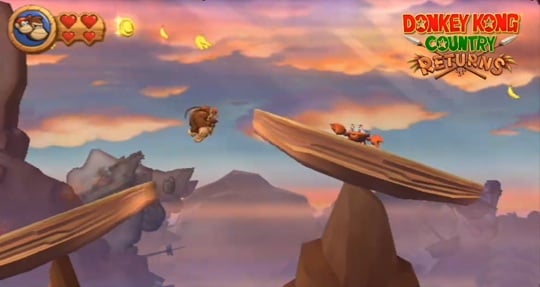 Tilt
Always dynamic, the environment contains moving masonry, rolling machines and more. There's grass to help you climb rocks in gravity defying fashion, vines to swing on from tree to tree, and rhinos to ride. Invention jumps out from every screen.
COMMENTS
RE: Get real.
Different yardsticks? Two entirely different games, two different reviewers.
Reviews compiled by a single person are subjective by their very nature. For an agregated perspective you could check Metacritic. Where DKCR is rated 87% vs 84% for GT5, seems there's somewhat of a consensus on which is the better game.
The wonderful thing about opinions is that everyone it entitled to their own.
"Bang, there goes your credibility." ... posted as AC? As such, your credibility hasn't gone -- it was never there to begin with.
♫ Memories ... like the corners of my mind ... ♫
DKC on the SNES was agreed, among my peers, to be the most beautiful game in all creation. I remember heading off to college for a lecture, leaving my flatmates behind to play "one quick game" before they joined me. I would return after closing time to find them in exactly the same place, the only noticeable difference being a significantly fuller ashtray and a correspondingly diminshed bag of weed. This pattern continued, I think, for three full days. Good times....
They don't make 'em like they used to
Oh. Apparently they do. And charge £45 for the priviledge.
'Tis a strange world....
Dixie
Dixie is the one with the pony tale, she was in DKC2.
tripe?
Presumably you have played it then? A lot? Because that the only make to make a fair assessment.
Diffrent strokes as they say, I'm guessing I will like this more than GT5, because I prefer platform games to car games. But have I said GT5 is tripe? No.
I think you are the one lacking in credibility.