Redstor schools the cloud with EMC's ATMOS
The best box and API for the job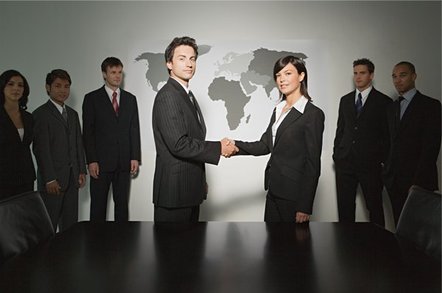 UK-based cloud backup provider Redstor is moving into cloud storage using EMC's Atmos hardware and software and a data centre build out programme.
Reading-based Redstor has three main businesses: reselling, managed backup and data protection services, and cloud backup. Regarding the managed services, co-founder Tony Ruane said: "We ran Tivoli, Legato and NetBackup up environments. This helped us get close to customers and helped train our techies. The customers owned their kit but we ran it. We still have quite a few managed services contracts."
Cloud backup
The cloud backup offering started in 2004/2005 with a couple of servers and ATTIX5 software from a South African supplier. After gaining around 50 or so small business customers Redstor talked to Warwickshire county council and realised there was a business to be had supplying cloud backup services to the 24,000 plus UK schools.
It now has 14,000 or so schools using a service called RBUSS - The Redstor Backup Service for Schools, which is sold through c80 local authorities or private service providers. More than half of all UK kids' school data is now stored in its infrastructure, and commercial organisations signed up for Redstor cloud backup services as well. All this gave Redstor cloud service skills and experience
The backup data is stored on a 700TB CLARiiON array, a maxed-out CLARiiON in a Bracknell-area data centre, and Redstor has more Nexsan storage with about a petabyte under management altogether. The CLARiiON is full up and needs replacing or augmenting.
Storage as a service
At some time in 2009, Redstor decided delivering storage as a service was next. It was convinced businesses would start buying IT as a utility service, because the costs were so substantially stacked in its favour.
If Redstor was to deliver storage as a service it needed a way for customers to access that storage and it needed a replacement for the full-up CLARiiON.
EMC UK hadn't realised just how big Redstor was as it never bought a massive CLARiiON, instead buying a shelf of storage here and a shelf there until it reached its present size. Ruane took EMC people to the Bracknell data centre last year and showed them what it was doing as a cloud backup service provider. Ruane said: "They were astonished, the penny dropped, and EMC said we have something you'll be interested in – Atmos. It could really work for you."
Redstor considered and then agreed. Ruane said: "We took their virtual edition ATMOS which sits on VMware servers and uses the CLARiiON or Nexsan storage – like a NetApp V-Series. We have had it running for three months, sitting on top of our existing infrastructure. Atmos gives us the ability to interface securely with that storage. It gives us scale and security; there's no need for RAID with Atmos as it spreads out data across the arrays and can do it across data centres. Atmos gives us better storage density as well.
"The thing that really appealed about ATMOS was its API. Through it we give app vendors a way to interface to an Atmos bucket. Fifteen or 16 companies have written to that API, including CommVault, Riverbed with Whitewater, and others. A whole series of third parties want to take their stuff on to the cloud and don't know how to. The Atmos API and Amazon's S3 gives them that."
He reckons: "Cloud is about doing it cheaper and ensuring the risks are acceptable. We're in test mode now and launch in January with Nasuni, a virtual NAS appliance doing deduplication, encryption, and compression (in software). We're seeing a huge amount of really interesting technologies coming through. The suppliers have to work with service providers (SP) with an infrastructure and there aren't many of us."
Redstor is probably the first SP in Europe that will have an Atmos infrastructure up and running.
Customers will access their storage bucket on their own via Riverbed, via Gladinet or use the Nasuni appliance. The initial application areas are backup and archive and tier 2 storage. and Redstor will offer a virtual NAS appliance service and SharePoint archiving, to financial services customers initially.
Sponsored: Minds Mastering Machines - Call for papers now open