Apple sells more mobile PCs than Dell
But only if the iPad is a mobile PC
Apple is now a more successful global seller of mobile computers than Dell, according to new third-quarter numbers from market watcher DisplaySearch.
The catch: it has to include iPad sales to do so.
According to DisplaySearch, Apple shipped 6.3m mobile computers - media tablets, laptops and netbooks, basically - in Q3 2010. Dell came in just behind it with shipments of 6.1m units.
Those figures give the two firms respectively 12.4 per cent and 11 per cent of the world mobile PC market.
Ahead of them both were HP - 9.5m units, 17.3 per cent market share - and Acer - 9.1m units, 16.5 per cent share. Toshiba came in fifth place, shipping 4.3m mobile computers for an eight per cent share of the market.
Q3 2010 Global Mobile Computer Shipments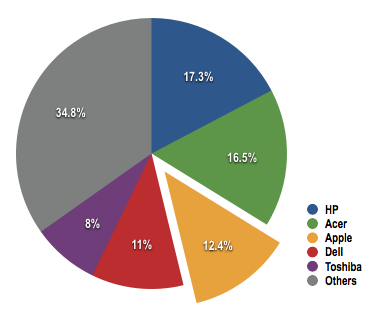 Source: DisplaySearch
The top five brands account for 65.2 per cent of the total mobile PC market, said DisplaySearch, as punters increasingly want to buy machines from companies they have heard of.
DisplaySearch reckons the iPad alone accounted for eight per cent of all mobile computers shipped in Q3, matching Toshiba's four-odd million units. Take those out of the equation and Apple's share for the quarter falls to 4.8 per cent, putting it in eighth place.
The question is, then, do you count the iPad as a computer? Fans will say yes, anti-fans will say no. Folk with a less polar viewpoint will say, 'probably'.
If you define a personal computer as "an electronic device for storing and processing data" (New Oxford American Dictionary) or as "a programmable machine that receives input, stores and manipulates data, and provides output in a useful format" (Wikipedia) then you have to allow that the iPad is a computer.
Of course, you also have to allow that almost every smartphone is a computer too, which would up Apple's market share further and bring Nokia into the frame. Sellers of Android phones probably don't ship enough of them to make the top five individually, despite the Google OS' strength as a platform. ®
COMMENTS
Err
You must be new here.
Otherwise you'd know that El Reg isn't invited to Apple events, and it seems El Reg is confused about what to do about it.
We get a stream of these apple-suck-up pieces every so often for a few weeks, and then in a few weeks there'll be a substancial anti-apple piece which undoes any sucking up thats done. Meanwhile the new apple product coverage from El Reg continues to be watching other peoples streams.
Oh dear Michael C.
I think you missed a lot of the points I was trying to make in your rush to defend the iPad (for example, I did not make a keyboard a criteria!), but one in particular is very faulty and that is your reference to cloud.
Your idea that all that is required is 'the cloud' *is* the special use case. The idea of mobility inheriently means that it is fully functional anywhere. The requirement for a 3G connection to work is analogous to saying it needs to be plugged in to work (albeit over the air). 3G only covers about 30% of the worlds *urban* population currently. By default, the definition of mobile computing devices has never been applied to devices that can only be used in location A, B or C. (Ignoring special requirements like extreme temperatures or waterproof!) . For it to be mobile, the device needs to be fully functional everywhere, and for that a device needs removeable storage or open connectivity for backup, archiving (space is not limitless) and sharing.
PS - go read your cloud providers T&Cs in whom you trust. I think you will find that (1) they take no responsibility for any data loss and (2) can cut you off from your data if there is any suspicion of illegality etc. For your own sake, I suggest that you recognise cloud for what it is: AUXILARY storage i.e. backup and sharing ONLY.
@Michael C
My Windows phone 7 has pretty much all of that sutff - it certainly isn't a mobile computer.
To PC or not to PC
If people are buying ipads instead of a netbook or notebook then it is entirely valid to include them in these figures.
Whether that is the case or not is debatable of course.
Classification
If and when the iPad is able to operate 100% independently without it being necessary to sync to iTunes, then yes, I would definitely say it counts as a "real" mobile computer. As it is, I'd have to say "kinda maybe sorta-ish".