Doctor Who: Return to Earth
Return to Shop?
'There's never been a bore like this one'
The other mini game has you steer a blue ball through a hazard-strewn maze, sometimes with a death-dealing black ball bearing down on you. The more blue crystals you collect in the previous level, the more chances you have of getting through.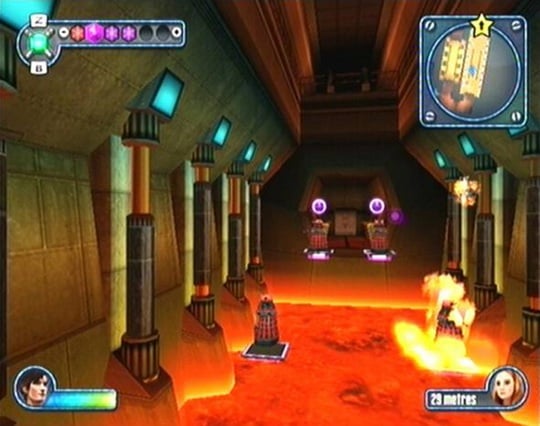 Sonic, not Sonic
Variations like these help pick up the pace now and then - the use of the series' key sound signatures helps a lot too, and the voices of stars Matt Smith and Karen Gillan - but only serve to emphasise how spartan the game feels the rest of the time.
The colour palette is muddy, the entire ship is seemingly lit with 25W bulbs casting everything in a yellowy brown light, and there's little in the way of detail and animation - it looks like a PSOne title - and a poor one at that. The maps aren't extensive, being largely limited to the path you need to follow.
There's almost as little atmosphere in the ship as there is outside it.
You won't be rubber-necking in awe of the scenery here. My own Wii favourite, Rebellion's Rogue Trooper: Quartz Zone Massacre was looking a little long in the tooth when it arrived on the Nintendo, and it's a few more years old now, but it offers sense of place well beyond what Return to Earth delivers.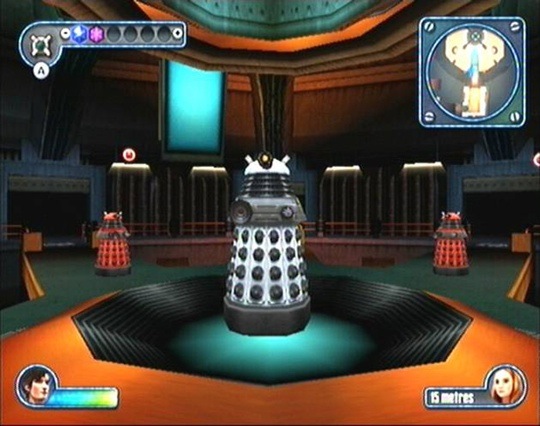 Excruciate!
But let's not forget, this is a game aimed at kids. The Pegi rating is 12, but it's suitable for younger fans if my eight-year-old is anything to go by. He loves the series, but Return to Earth entirely failed to excite. He's on to Donkey Kong Country Returns now, and having a ball.
Of Return to Earth he said: "It's a bit boring, Dad," and that sums up what I feel too.
Verdict
A good plot and a faithful rendering of the show's ethos push Return to Earth a long way along a path littered with Doctor Who videogame failures. But a relatively short play time, too little variety in the gameplay and utterly unengaging visuals make this game more a Twin Dilemma than a Caves of Androzani. Download the BBC's Doctor Who Adventure Games - they're more fun and free. ®

Doctor Who: Return to Earth
Third-person action as the Doc and Pond take on the Cybermen and the Daleks. Available on the Nintendo Wii.