Western Digital WD TV Live Hub
Torrent on TV
Firmware fix
The Live Hub did show up as a network drive on my office iMac, but when I tried to copy some audio and video files onto it I received a message saying that I didn't have permission to do that. It took a phone call to WD and a firmware update to correct this problem. While this isn't a major flaw, it could still confuse less experienced users who haven't set up a media player device such as this before. The 150-page PDF manual isn't exactly a model of user-friendliness either.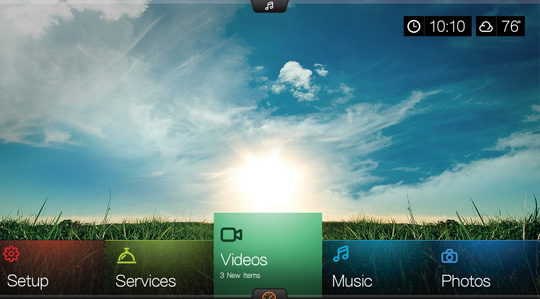 Among the tweaks is an interface makeover
Fortunately, things picked up after that. The interface on the Live Hub has been given quite an overhaul this time around and now displays a tasteful wallpaper picture on most of the screen. The various playback options appear as large, coloured tabs that scroll along the bottom of the screen. There are tabs for music, photos and videos, and clicking any of these quickly displays the various files stored on the internal hard disk, as well as allowing you to locate files stored on network devices or connected USB devices.
The interface is clean, attractive, and smoothly responsive. And, unlike many of the rival media players I've seen, allows you to browse your music collection by album, artist or genre. There's also a handy Dashboard feature – activated by a button on the remote control – that lists recently played files and also allows you to store your favourite files for easy access.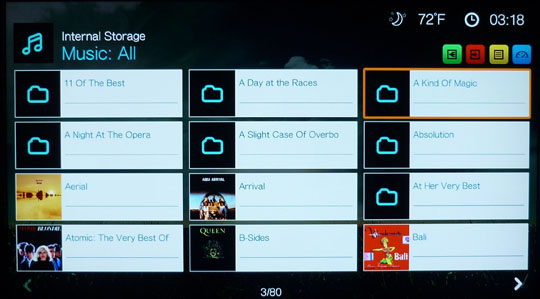 Comprehensive browsing features
I did encounter one interface oddity, though, as the Live Hub didn't seem able to display the album artwork for many of the albums I copied over from my iTunes library, which meant that the album view was mostly populated by simple pictures of plain folders. It's possible to add album artwork manually but, frankly, life's too short for that sort of thing.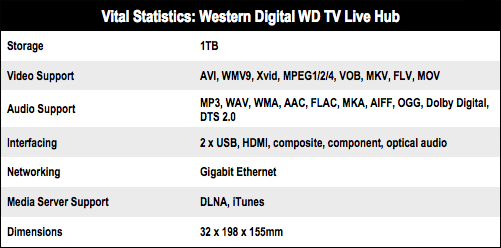 Sponsored: HPC and HPDA for the Cognitive Journey with OpenPOWER