TomTom Go Live 1005 satnav
Routefinder General
Eco tour
TomTom makes much of the Go Live 1005's speedy route planning, but to be honest I didn't notice any difference compared to other modern PNDs with a decent processor under the bonnet. Moreover, you still have to wait a fair while for the unit to process live traffic information.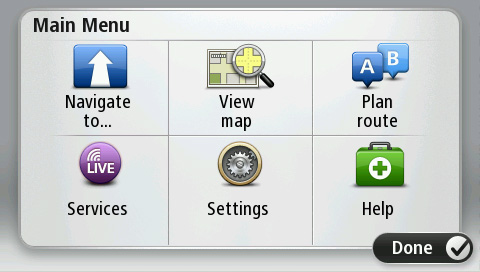 Main menu
The 1005 comes with all TomTom's bells and whistles including the excellent HD Traffic congestion monitor, IQ Routes route planning, voice command, Bluetooth, speed camera locations, graphical lane change display, weather forecasts and Google Local Search. It also features Eco routes, which is intended to take you along the most fuel efficient journey to reach your destination.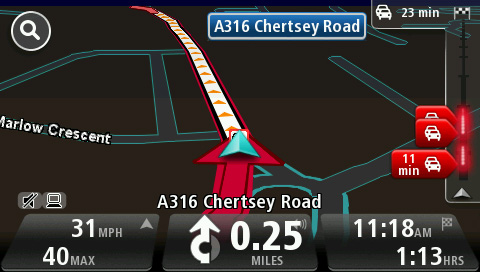 Night view
HD Traffic and the other data linked "Live" services come free for the first twelve months. After that, it will set you back £47.50 a year. It's a price worth paying if dodging jams is a priority, as HD Traffic is much, much better than basic TMC. Quarterly map updates cost just shy of £20 per annum.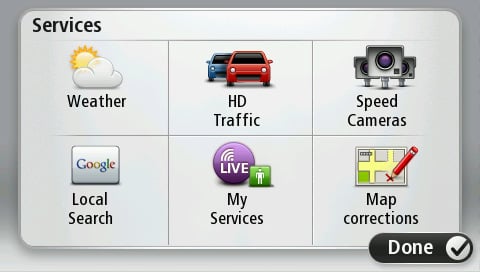 Services menu
Vocal guidance and the various voice options are of a uniform high quality. For those who appreciate such frippery, you can now install a selection of Star Wars voices on your TomTom for £7.95 a pop. Alas, the system still sticks with TomTom's traditional 'hundreds and thousands' style of road number enunciation. And quite an annoyance that proves to be.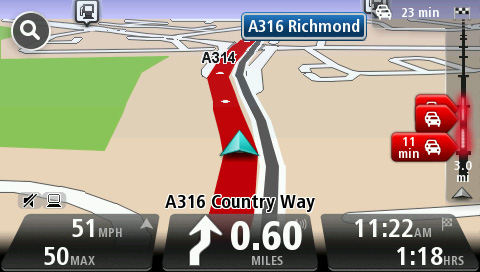 3D driving view
GPS signal acquisition and retention was also very impressive. Indeed, I can't criticise the navigation choices made by IQ Routes, the destination selection system or the pin-point accuracy of my indicated location. The internal battery lasted for an average 90 minutes between charges, which isn't bad for a large screen device. The antenna for the GPRS data feed is built into the device, so there is no need for an aerial cable, though anyone with an athermic windscreen or a built-in heater element may curse this feature.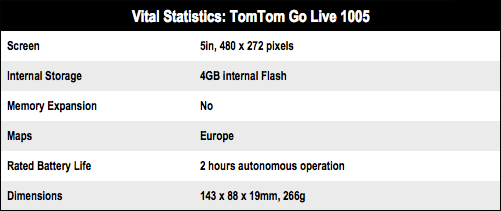 Sponsored: Minds Mastering Machines - Call for papers now open