Apple Mac Mini with Snow Leopard Server
The Xserve alternative?
The underlying open source basis of OS X includes a whole smörgåsbord of enterprise-strength Unix server tools – Samba for Windows networking, Apache, Perl, Python, Ruby, Rails and MySQL for Web hosting. There's CUPS for printer management, Dovecot for POP3 and IMAP e-mail delivery, Postfix for SMTP, SquirrelMail for webmail, Mailman for running mailing lists, SpamAssassin for junk filtering, and so on down a long list that you can peruse here.
Apple's own tools include iCal Server 2 for CalDAV-compatible calendaring, Address Book Server for CardDAV-compatible shared address book and LDAP directory, a Wiki server, QuickTime streaming media servers and so on. Obviously everything is compatible with Apple clients – Macs and iOS devices – but it's also a highly Windows-compatible server. It can even act as a domain controller, if you wish, or join an ActiveDirectory domain.
If you want to make the machine Internet-facing, it can act as a VPN endpoint or even, in theory, as a firewall using a USB Ethernet adaptor. All these services are controlled by some remarkably simple and friendly GUI management tools and the machine's desktop can be accessed remotely using VNC.
There are two levels of admin tool, one for novices – who don't really want to fiddle too much – and another for power users. The basic tool is Server Preferences and it looks much like System Preferences, the OS X equivalent of the classic MacOS (or Windows) Control Panel.
Server Preferences has just three groups of icons: Accounts, Services and System. Accounts lets you add and remove users and groups, System contains various monitoring tools, and in between them, the row of icons under the heading of Services lets you do the bare essentials of administration in the various roles that OS X Server performs.
Each service can be turned on or off, you can create, remove or modify shared resources and so on. There's very little in the way of customisation – this is really just for the network admin who wants to plug the box in, turn it on and leave it.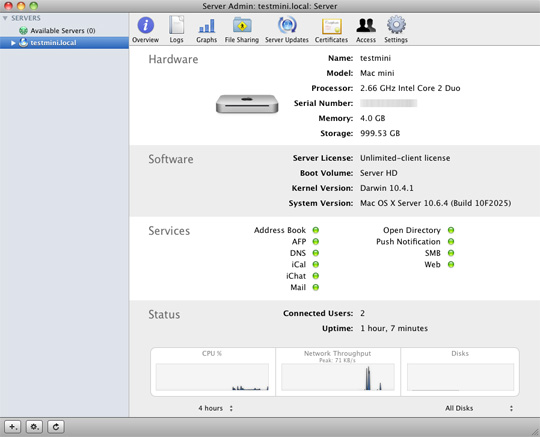 The Server Administrator gives an overview of what's going on
The centrepiece of the set of more sophisticated tools for advanced administration is called Server Admin. This not only lets you drill down into all manner of settings and twiddle options to your heart's content, it can also control multiple OS X Servers from within a single interface. Everything – that on a standard Linux server would be accomplished by editing config files – can be done from within a friendly, polished GUI, complete with online help, and it can manage remote boxes too.
Sponsored: Minds Mastering Machines - Call for papers now open