Tron Evolution
Glowing nowhere?
Young hearts free run
You play as System Monitor, a security program developed by Flynn to investigate the virus. Only there's no real investigating to be done. The plot reveals itself early on, and from there on in the game never wavers from standard third-person action-platformer, as you make your way through The Grid and fight thousands of CLU's henchmen with your trademark identity disc.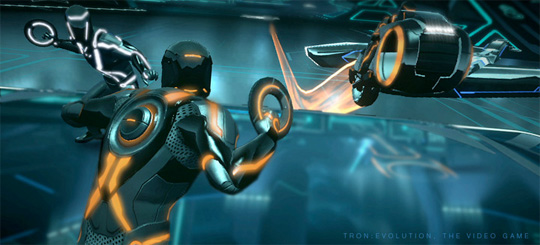 You got jack, white stripes!
Combat is Tron Evolution's least satisfactory mechanic. Varied disc powers and enemy types hint at a system of depth, as do continuous upgrading and a repertoire of melee, ranged attacks and AoE power slams. But limited combos and powerful upgrades render variation unnecessary, and reduce combat to simple attrition. And with large arenas and slow moving enemies, the novel system of health and power regeneration, which forces players to vault or wall-run their way back to full power, provides too-frequent leisurely breaks in combat.
Tron Evolution's platforming is not as leisurely. While its wall-running, vaulting, grappling and ledge climbing are ripped straight from the parkour-pages of Prince of Persia, Mirror's Edge and Assassin's Creed, it proves far less forgiving than those games.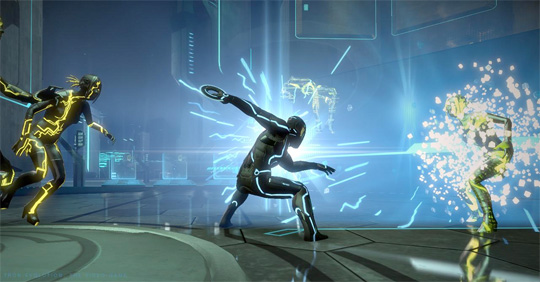 Shocking combat
With minute misjudgements in direction and trajectory punished by derezzing and a return to poorly placed save points, these sections might feel too punitive for some. But they provide a welcome challenge to any old-school gamers desensitised by the current glut of death-averse games.
Sponsored: Minds Mastering Machines - Call for papers now open