Sharp Aquos LC-32LE210E 32in LCD TV
Bedroom furniture makeover time?
Alas, when I tried to reformat an NTFS memory stick I simply got an error message stating 'invalid format', with no further explanation. Only after delving through 30 pages of small print did I discover that the storage device used for recording must first be formatted as FAT/FAT32 – which I had to do using a laptop PC – and then inserted into the LC-32LE210E so that it can be reformatted once more.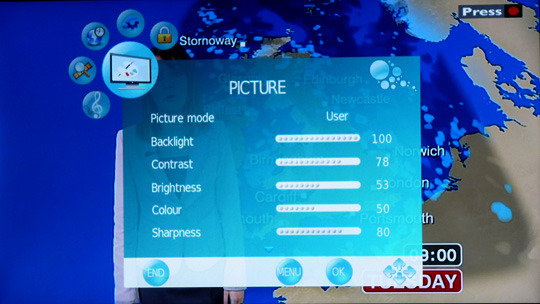 Menu options
It's a bit of a faff, to say the least, even if you know about these different file systems, but I suspect that many ordinary home users will stumble at this hurdle, so Sharp needs to provide greater plug-and-play simplicity for the recording features. Thankfully, recording onto a correctly formatted storage device is quite straightforward, as the recording and playback controls are all conveniently located on the remote control.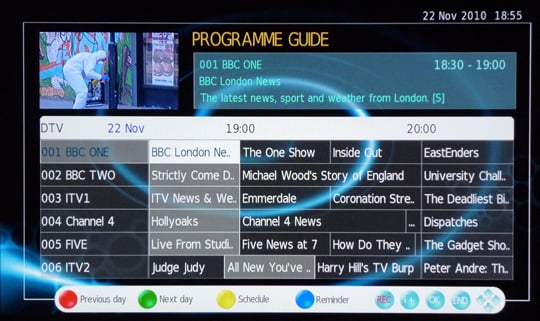 EPG
You can schedule recordings in advance using the 8-day EPG, and you can repeat recordings on a daily or weekly basis if you want to. A half-hour video recording takes up about 1GB of storage space, so my 16GB memory stick was perfectly capable of recording several hours' worth of programmes. Unfortunately, the (apparently Unix-based) file system used by the LC-32LE210E was indecipherable to both Macs and PCs in my office, so it wasn't possible to transfer recordings from the USB stick onto a computer or portable media player.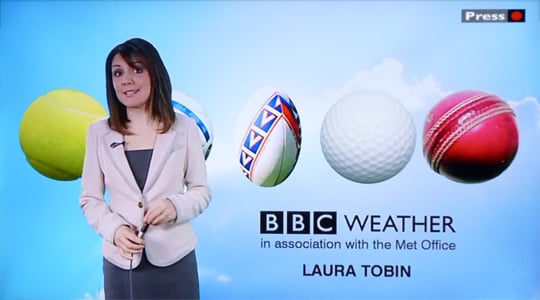 Even though it's a non-HD Freeview tuner, it delivers a very respectable picture
Image quality when using the built-in Freeview tuner was actually better than I'd expected, given that the programmes are merely standard-definition. And, as you'd expect, plugging in a Freeview HD box produced an obvious improvement, with bolder colours and finer details on BBC HD.