Seagate DeLorean: World's priciest hard drive?
$250 for 500... gigawatts?!?
Spin up this Flash Rods model DeLorean stainless steel hard drive car and go back to the future with MBs costing seven times more than they need to.
The 1:18 scale model is a glorious rendition of John DeLorean's DMC-12 auto-dream re-envisioned as the Back To The Future car with its Flux Capacitor. It comes with "with 50's style moon discs and… Mr Fusion reactor".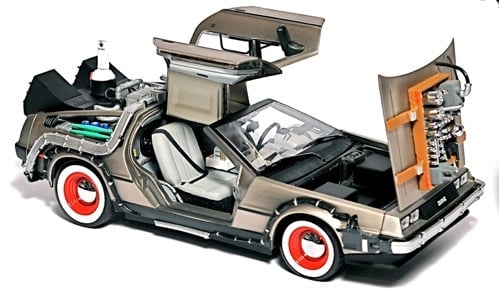 There is a 500GB Seagate hard drive inside with a USB connector built into the back of this model motoring marvel. It costs $250, 6.94 times more expensive than the same capacity Seagate disk price of $36.00 on the net. Awesome. ®
COMMENTS
Bad idea
First time you get a power surge, all that will be left of this thing is a couple of burning tyre tracks on your desk.
Are you telling me...
... you built a hard disk? out of a Delorean???
Here's a question . . .
Will it work with Apple's Time Machine?
88
It's 88 times cooler as any fule kno
Hard drives?
Where we're going, we won't need hard drives!