Tonal colours
While not exactly Pure's fault, I found the compression on the DAB radio channels to be rather harsh. The DAB signal was fine, but switch to FM and the dynamics are easier on the ear, although you'd need to wave the wire aerial around a bit to minimise reception hiss. Yet, for material such as classical music, the dynamic range can be a listening challenge and the Twilight has a dynamic range control (full, half and off) for DAB reception. Even though audiophiles may squirm at the thought, it did make a useful difference when listening to Vaughan Williams' Symphony no. 5 on BBC Radio 3.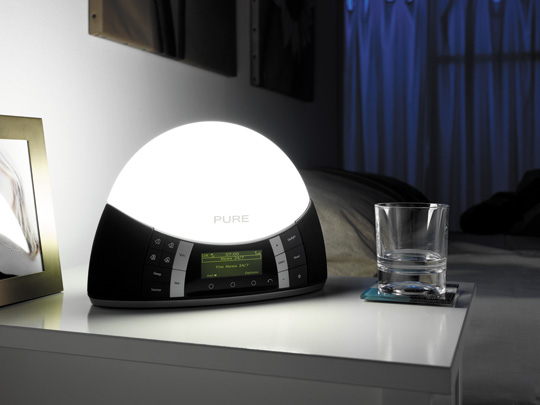 Makes more room on the bedside table, and in your wallet too
DAB's compression – combined with digital broadcasting preferences to deliver round table discussion programmes such as BBC Radio Four's In Our Time in mono – does tend to undermine the definition of some content, but I could just about live with this as bedside listening for the convenience. However, I would say that Pure needs to work on the sensitivity of the Twilight's volume control at lower levels because it tends to make rather big leaps.
Verdict
Overall, the Twilight is a rather nice idea with just a few shortcomings. It's not cheap (but what DAB radio is?) and takes a little getting used to, as its controls tend to look the same in dim conditions and the lamp itself doesn't shed light on here either. Even so, the Pure Twilight certainly made a lot of space on my bedside table, dispensing with the need for a shaded lamp with a large base. Whether the daylight lamp has health benefits is debatable, but the mood lighting at night is a nice touch that will surely appeal to those who dream in colour. ®
More DAB Gear Reviews...

Ten Essential...
Bedside iPod docks
Pure
One Mi
Teac
R-4iDNT
Revo
Heritage

Pure Twilight DAB/FM radio and dawn simulator
Bedside stereo DAB radio and LED lamp combo with mood lighting.
COMMENTS
"Babbling brook" preset (as pictured)
Isn't that just standard DAB reception on a portable aerial?
dawn simulator?
Round our way, we call it a light.
£150 for a clock radio alarm with a light and added bullshit.
Seems a bargain
argh
It looks like the Stig is hiding behind your bedside table, waiting for you to go to sleep.
Not very comforting.
@Anonymous John
Bully for you with your late-starting job or home near the equator. Some of us have jobs we have to get up early for and live in latitudes which mean that the early morning is dark. Apparently it has even been postulated that places exist where daylight only shines for a few hours each day -- but ,personally, I don't believe any such preposterous places actually exist.
Failure
It sounds like the two main selling points - fading of light and sound - it actually fails at: fading down the light and then turning it off abruptly and not fading the music down as well.
I swear, it's as if these companies don't actually test their products and think about them particularly hard. Or they're just hopeless at manifesting their initial idea and finessing it.