Moody blues
There's more to the lamp than just touch control though. The daylight option – fading up before the alarm sounds – is claimed to have possible health benefits for the seasonally affected. I must admit, awaking to it wasn't unpleasant, just a bit dazzling first time round with my waking thoughts being I'd gone to sleep with the light on.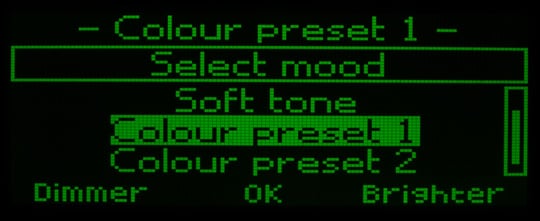 If you don't like the presets you can customise the mood lighting
The coloured mood lighting can be selected at any time, but there seemed no obvious way to wake up to an orange glow or any other colour for that matter. At night though, the light can be set to fade over a sleep interval, which will also kill the radio at its end. It was a pity that the radio didn't slowly diminish in volume too. The light extinguishing also seemed rather abrupt, with no galloping fade near the end. Just off.
The Twilight offers custom colours and intensities along with several themed options, including some that vary the colour scheme. Yet, apart from the more gentle meanderings of the Rainbow preset, Party and Fire seemed rather unsubtle. With the latter, you could even opt to have the Pure Sounds Crackling Fire audio preset play away. These soundbites appear in the audio source menu, along with lullabies (which are fairly pleasant). Yet most of the Pure Sounds seem in too much of a hurry, the wind chimes are too fast, the lapping waves too busy and the cicadas too manic.
What Pure really should do here, is learn from the ambient master. If the thinking behind Brian Eno's Bloom iApp was applied to the Twilight, with its touch controls triggering sounds and colours too, that would be a bedside radio worth having an early night for.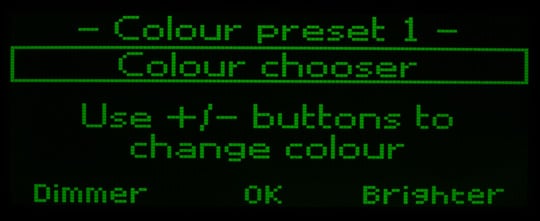 Pick a colour and then alter the brightness to suit
Sonically, the Twilight delivers a robust output, but I couldn't describe it as warm. Testing with the aux input revealed its rather contained performance. The bassline on The Doors' Riders on the Storm came across as plucked rather than the rounded rumble I'm used to hearing. Steely Dan's punchy bass on Things I Miss the Most had it complaining slightly at full blast, but the Twilight seems to avoid excessive distortion by steering clear of trying to deliver low frequencies it can't handle.
COMMENTS
"Babbling brook" preset (as pictured)
Isn't that just standard DAB reception on a portable aerial?
dawn simulator?
Round our way, we call it a light.
£150 for a clock radio alarm with a light and added bullshit.
Seems a bargain
argh
It looks like the Stig is hiding behind your bedside table, waiting for you to go to sleep.
Not very comforting.
@Anonymous John
Bully for you with your late-starting job or home near the equator. Some of us have jobs we have to get up early for and live in latitudes which mean that the early morning is dark. Apparently it has even been postulated that places exist where daylight only shines for a few hours each day -- but ,personally, I don't believe any such preposterous places actually exist.
Failure
It sounds like the two main selling points - fading of light and sound - it actually fails at: fading down the light and then turning it off abruptly and not fading the music down as well.
I swear, it's as if these companies don't actually test their products and think about them particularly hard. Or they're just hopeless at manifesting their initial idea and finessing it.