A light touch
Not such a great idea is the length of the cable for the external power supply. At just 1.5m, it would only just cover the width of a double bed. So, in many cases, the preferred positioning will require an extension lead.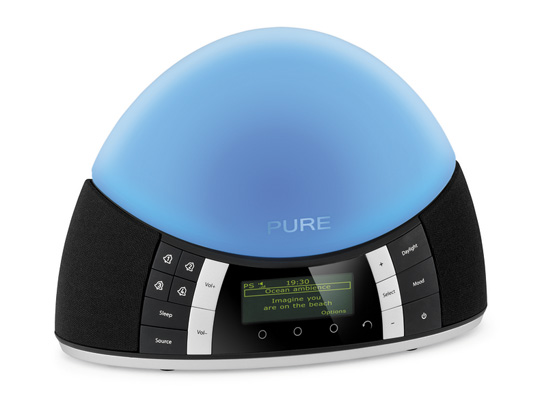 Aesthetically pleasing, but simple volume knob would make it a lot easier to operate
With no knobs to twiddle, and no remote control either, the front panel of the Twilight requires an awful lot of prodding at times. There are dedicated keys for the four alarms, sleep, audio source, daylight and mood lighting, along with volume and select up/down options and power. In use, a further four touch sensitive buttons become active below the LCD screen.
As someone with a radio in every room, I really miss having a good old-fashioned volume knob to twirl, as it's just so darned quick to tweak the sound levels. I could just about excuse my knobless Memorex Mi4014 iPod dock – that has adorned my bedside for over a year – because it has a remote control. No squinting at front panel required, just point and click.
Admittedly, the grip of the Pure Twilight's rubber feet prevent it from sliding off the bedside table with persistent prodding, but once the dust starts clinging to them, which is already beginning to show on the review sample, you'll need to hold the device to steady it.
Now, things can get rather interesting when you start touching the Twilight. When poking your way through the options, you soon learn to avoid the lamp, because you'll either be thrown into darkness or the coloured mood lighting you've set up will be trumped by the dazzling daylight option.
This is all part of the Twilight's charm, as the lamp responds to different touch commands. Tap the top and it's on or off. A sustained touch will either dim or brighten the light. If the light intensity is going the wrong way for you, let go and touch again, as the control toggles with each press. A touch will also snooze an alarm.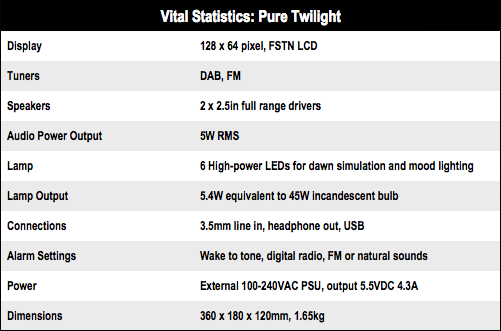 COMMENTS
"Babbling brook" preset (as pictured)
Isn't that just standard DAB reception on a portable aerial?
dawn simulator?
Round our way, we call it a light.
£150 for a clock radio alarm with a light and added bullshit.
Seems a bargain
argh
It looks like the Stig is hiding behind your bedside table, waiting for you to go to sleep.
Not very comforting.
@Anonymous John
Bully for you with your late-starting job or home near the equator. Some of us have jobs we have to get up early for and live in latitudes which mean that the early morning is dark. Apparently it has even been postulated that places exist where daylight only shines for a few hours each day -- but ,personally, I don't believe any such preposterous places actually exist.
Failure
It sounds like the two main selling points - fading of light and sound - it actually fails at: fading down the light and then turning it off abruptly and not fading the music down as well.
I swear, it's as if these companies don't actually test their products and think about them particularly hard. Or they're just hopeless at manifesting their initial idea and finessing it.