Dock green
Docked, the iPad is slightly less Fidelio friendly - or rather, the other way round. Philips has put in a trio of rubber rests against which the tablet leans, and the spring-loaded dock connector pivots front to back to ease insertion and removal.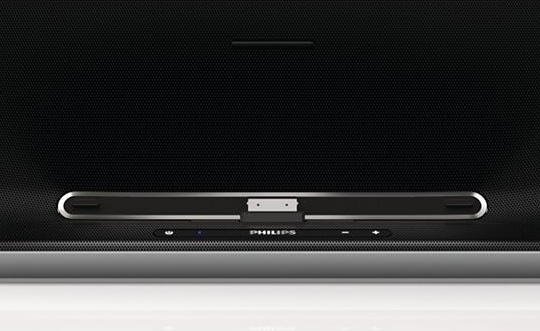 The docked iPad has support, but could do with more
But what it lacks are supports for the extremes of the iPad's bottom edge, so it's easy to knock it out of kilter.
There's no way to put the iPad in landscape orientation, but if the upcoming 'iPad 2' does indeed sport two dock connectors, the DS8550 will happily hold the tablet that way round.
Meanwhile, Philips bundles a separate - and well made - "iPad stand" so you can sit your tablet down lengthways and stream video soundtracks to the speaker.
Incidentally, there's the inevitable Fidelio app, which provides playback access to your iPod playlists and has alarm clock functionality. Apparently, it also lets you apply settings to the DS8550, but under iOS 4.2.1, the menu that does so was blank. An update is in order, eh, Philips.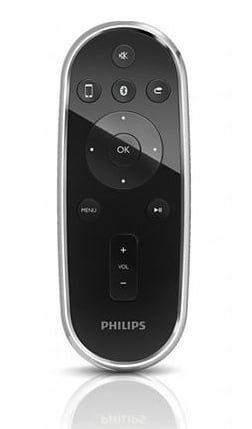 The remote's quite nifty too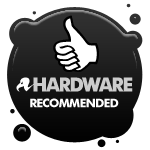 The DS8550 is priced at £250 which puts it alongside the likes of the aging, battery-less and wireless-lacking Bose SoundDock II. I like the Bose - I have one at home - but I'd trade it for the Fidelio.
Verdict
The Fidelio DS8550 is another great iPod - and now iPad - speaker from Philips. The design is great, the sound quality better, and with Bluetooth A2DP and AVRCP, you can feed in audio remotely. What else can I say? This is a darn fine iPod speaker. ®
More iPod Speakers

iLuv
iMM747
Ten Essential...
bedside
iPod docks
Pioneer
XW-NAV1
Ten Essential...
premium
iPod Speakers

Philips Fidelio DS8550 wireless iPad speaker
Wireless and wired dock speaker that's iPad friendly and portable.
COMMENTS
Re: Does it make a difference?
Yes: out of the iPad headphone socket and into the Fidelio aux port.
Does it make a difference?
"The secret, incidentally, is to treat the iDevice simply as a controller and music store. The Fidelio takes the digital data and runs it through its own digital-to-analogue converter (DAC) rather than rely on the one in the player. It does make a difference."
How do you know that? Does it have the ability to play analogue audio from the iPad?
Shame about the dock
Shame it has a physical dock really, but then you wouldn't be able to show off your iPad so prominently and conversation-startingly I guess. Hopefully one day wireless streaming on stereo equipment will be taken as read as much as having a CD player - which used to have big fancy arrows and things back in the 80s, in much the same attention-seeking manner.
Bluetooth
Not been mentioned as far as I've seen, but iOS4 works MUCH better with Bluetooth, and holds the connections. Under 3.x it dropped them a lot when idling - I upgraded on Tuesday and it hasn't dropped yet.
BTW, rather than upgrading and buying speakers, etc, you can just buy a BT adapter that will plug in the aux sockets on your existing stereo. Works a treat...