Apple MacBook Air 11.6in sub-notebook
The beauty and the boast
Price fighter
As always, the test was run with Wi-Fi on. The Air can connect using 5GHz 802.11n, and this will consume more power than 2.4GHz Wi-Fi. I had the Air set to the former, and that won't have resulted in the best score of which it's capable. But had I switched to 2.4GHz, the Air would still have put in a below-average performance.
And, as I found when I previewed this model, the 64GB SSD doesn't let the Air start or recover from sleep as quickly as the more capacious ones can. You shouldn't expect any more from a bottom-of-the-range model, of course - a point which neatly brings me on to the key point here: the price.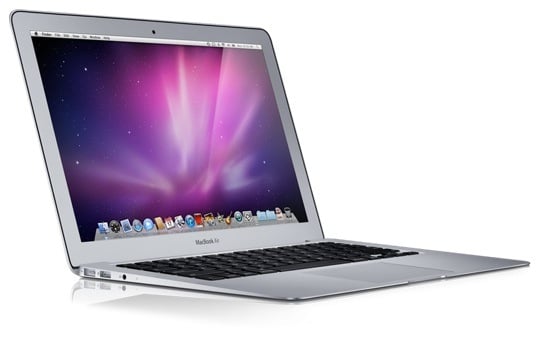 Small dimensions, big price
Yes, even at £849, the Air is expensive - too expensive. Aside from that, it's a machine that can hold itself up alongside rival vendors' laptops. Yes, it has fewer ports, but arguably it has the features that matter in a machine not aimed at geeks or gamers. On the plus side, it's a darn sight thinner, lighter, more portable and faster than the competition.
But when the asking price is more than twice as much for half the thickness of a rival offering, you really have to need that portability to be happy paying so much over the odds.
Verdict
If you have any sense at all of the aesthetics of computing products, you have to agree that the 11.6in MacBook Air is a beautiful laptop. It's more portable than any netbook or sub-notebook, let alone 13-inchers and above. It's a real joy to use. It delivers a performance that puts other small form-factor laptops in the shade. In all these criteria, it warrants a very high rating indeed.
But... when such a little machine costs such a lot - and with no extras chucked in - it makes it hard to recommend, as gorgeous as the MacBook Air undoubtedly is. ®
More Mac Reviews

Apple
MacBook Air
13.3in
Apple
MacBook Pro
17in
Apple
iMac
21.5in
Apple
MacBook
13.3in
Sponsored: Minds Mastering Machines - Call for papers now open

Apple MacBook Air 11.6in sub-notebook
Ultra-slim, ultra-gorgeous sub-notebook with a class-leading performance - and a big price tag.
Price:
£849 (64GB SSD) £999 (128GB SSD) RRP