Apple MacBook Air 11.6in sub-notebook
The beauty and the boast
Compromised for size
As I've said, the Air is no netbook, but I can't ignore the deficiencies it has as a result of the pruning Apple has done.
Netbooks tend to be tubby, but 11.6in sub-notebooks are able to be slimmer because, being slightly larger, they have a larger footprint so designers are able to spread components out rather than stack them. The Air is still way thinner and lighter than any of the 11.6in Windows 7 machines I looked at a month or so back - it performs better too - but they, like the Eee PC, have more features.

The keyboard is full size
The Eee 1215PEM happens to have Gigabit Ethernet, but most netbooks and 11.6-inchers only go up to 100Mb/s, but the Air doesn't even have that. Apple has added a second USB 2.0 port and there's still an external monitor connector - mini DisplayPort - but it couldn't squeeze in the SD card slot that so many rivals and even the 13.3in Air manage to include.
The big question, of course, is whether all that matters. Personally, I've never used a laptop monitor port and never will, and would happily trade it for Ethernet. Other folk do, just as others don't care about a LAN connection because they only have WLANs at home and at work.
Likewise, the fact you can't upgrade the memory is annoying, but given the OS and the realistic lifespan of the hardware - upgrade in 3-4 years' time - it's not a deal breaker. Geeks like us tend up ramp up Ram, but most folk don't. And OS X will run smoothly in 2GB even minus the 256MB or so the GPU grabs for video.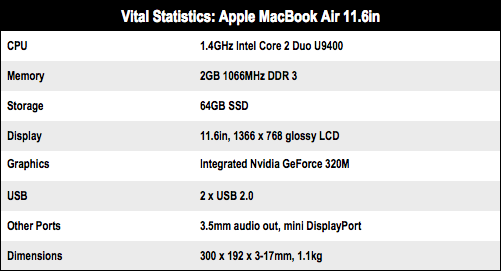 Sponsored: Minds Mastering Machines - Call for papers now open