Creative Zen Style 300

While the Style 300 has much room for improvement, it's a fairly nifty MP3 player for £40. Positively inundated with features, the menu is reasonably quick to grasp and the sound is impressive. Combined with one of the best voice recorders I've tried and a slick case, my initial impression was hugely positive, but the Style 300 is let down by what seems like buggy software.
Three times now I've had to reset the device after it froze - a common problem, according to web forums. Video support is limited to a proprietary format that can only be encoded through the bundled PC software. However, even though the headphones are weak and the speaker has a tinny phone-sound to it, the huge array of features and superb battery life balance things out. If it wasn't for the freezes, the Style 300 would have scored much better.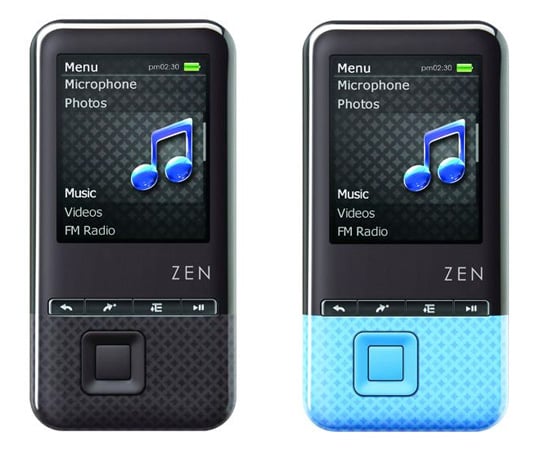 Reg Rating 65%
Price £40 (4GB) £60 (8GB) £80 (16GB)
Format Support MP3, WMA, Wav, Audible
More Info Creative
Philips Go Gear

This clip-on, thumb-sized MP3 player offers fairly basic controls to skip tracks - or music folders - shuffle, repeat and to alter volume. There's an FM radio too, but the storage and format support are limited.
The stainless steel shell has slick written all over it and is available in a variety of colours too. However, the buttons can be fiddly and, apart from a coloured LED behind the play button, there is little communication between user and device. Out on a jog, none of these issues matter, but loud background noise could be a problem, and the cheap headphones supplied with it don't help matters.
Philips has incorporated its FullSound technology, a post-processing algorithm designed to restore losses in dynamics and frequency range that are inherent in compressed audio. Indeed, the sound reproduction seemed quite smooth, but it wasn't spectacular and could benefit from a higher output volume. Alas, the radio reception wasn't great, as it struggled to get a perfect signal even on the sixth floor of our central London office building. Still, for simplicity and a long battery life of approximately 12 hours, the Philips GoGear Clip is a fairly decent iPod Shuffle alternative, and a rugged player that is unlikely to see damage easily.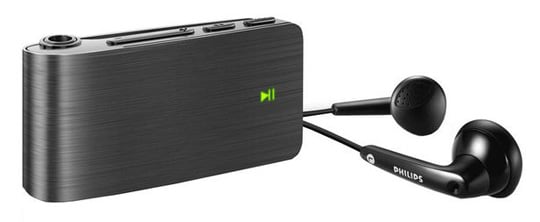 Reg Rating 70%
Price £25 (2GB) £45 (4GB)
Format Support WMA, MP3
More Info Philips
COMMENTS
Sansa Clip+
Is head and shoulders above the rest. Best sound quality I've had since the days of my iRiver H140 (and I've had a selection of Cowon, Creative & Philips players inbetween), all in a terribly small package. Whats not to love?
Sansa Clip+
Will actually support up to 40GB. I have an 8GB model with a 32GB microSDHC card. It takes bloody ages to rebuild the internal database every time I disconnect it from the computer, but it's otherwise fine. Word to the wise, though - secure the card with some electrical tape. If you don't, and you drop the player on the kitchen floor, the card will ping out and disappear under the cooker.
Irresponsible
There's a reason why the EU has limits on mp3 player output. It's because using *bad* headphones and putting the volume up really high to compensate for background noise is really bad for your hearing.
So why are you recommending players on basis of 'high volume'? When you should be recommending people invest 25 EUR on a decent pair of earbuds? Or a little more on a set of noise-cancelling cans?
Really, this is what I expect from a Murdoch publication. From somewhere so geeky as theregister I expect at the very least informed advise...
"there was nothing else available with a name I trusted"
You trust Sony?
Wow.
Playcounts? That important?
That feature sounds about as must have as a spirit level.
Manually manage your listening??? I think you are trying to hard. Just listen to some tunes and relax.