Ten... sub-£50 budget MP3 players
Sound choices
Product Round-up Some might argue that, with music playback now integrated into most mobile devices, low-cost MP3 players are fast becoming surplus to requirements. Yet, despite a decline in sales, budget audio kit is still very much in demand this time of year, and manufacturers continue to bring new models out in a bid to compete with Apple's dominance.
Moreover, the convenience of a pocket-friendly MP3 player – one that's going to be a lot cheaper to replace than a phone when joggers collide – shouldn't be underestimated. With festive shopping on the horizon, here, in alphabetical order, is a sample of the MP3 players available for under £50 that will surely add volume to any Christmas stocking.
Apple iPod Shuffle 4G

Apple's iPod Shuffle, the archetype for any clip-on player, has seen some improvements this year. The decision to move the controls off the earphone cable and back to the body itself is a welcome change that means you can use nicer cans. The sound itself is fantastic and plenty loud enough.
The Shuffle is small, elegant but very basic. Its aluminium case has an executive slickness to it and there's no doubt that Apple's little music box sets the bar for minimalist audio players. Aside from the exclusivity of iTunes, the main problem I have is value for money. As this round-up highlights, you get a lot more for your quids elsewhere. While having additional features like a display, radio and voice recorder may impact slightly on battery life, the Shuffle is by no means a particularly long-distance runner itself.
Still, Apple has been doing this for a while now and even though the Shuffle is by no means my top choice, it remains a safe option. It is perfect for joggers and offers format support to suit most users, with plug-ins available for iTunes able to convert other formats.


Reg Rating 80%
Price £39 (2GB)
File support MP3, AAC, AIFF, Audible, Wav, Apple Lossless
More Info Apple
Archos 18 Vision

I wasn't too impressed by the 18 Vision, which feels like a cheaper version of the Creative Zen Style. The body is too lightweight and only saved by nice-to-stroke rubbery case. The sound is generally poor and feels like it's missing something, perhaps because the bass lacks clarity.
The 18 Vision offers quite a range of features, including video, but movie playback is very pixellated on its 1.8in, 160 x 128 screen, and with the 18 Vision's pitiful battery life, viewing can be shortlived. The voice recorder picks up a lot of background noise and the headphone socket is to the side, which unnecessarily makes the 18 Vision an awkward pocket fit.
While volume does go incredibly loud, the disappointing sound quality literally hurt my ears at such levels, especially with the supplied headphones. Alas, the 18 vision tries to do too much, which is all very well as long as you get the fundamentals right, which it doesn't.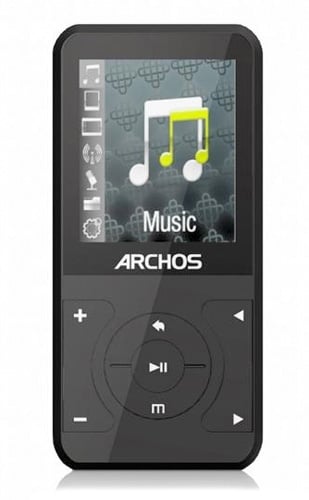 Reg Rating 55%
Price £30 (4GB) £40 (8GB)
Format Support MP3, Wav, Flac, APE
More Info Archos
COMMENTS
Sansa Clip+
Is head and shoulders above the rest. Best sound quality I've had since the days of my iRiver H140 (and I've had a selection of Cowon, Creative & Philips players inbetween), all in a terribly small package. Whats not to love?
Sansa Clip+
Will actually support up to 40GB. I have an 8GB model with a 32GB microSDHC card. It takes bloody ages to rebuild the internal database every time I disconnect it from the computer, but it's otherwise fine. Word to the wise, though - secure the card with some electrical tape. If you don't, and you drop the player on the kitchen floor, the card will ping out and disappear under the cooker.
Irresponsible
There's a reason why the EU has limits on mp3 player output. It's because using *bad* headphones and putting the volume up really high to compensate for background noise is really bad for your hearing.
So why are you recommending players on basis of 'high volume'? When you should be recommending people invest 25 EUR on a decent pair of earbuds? Or a little more on a set of noise-cancelling cans?
Really, this is what I expect from a Murdoch publication. From somewhere so geeky as theregister I expect at the very least informed advise...
"there was nothing else available with a name I trusted"
You trust Sony?
Wow.
Playcounts? That important?
That feature sounds about as must have as a spirit level.
Manually manage your listening??? I think you are trying to hard. Just listen to some tunes and relax.