Viewsonic ViewPad 7 Android tablet
Tablet sceptics, prepare to be converted
Johnny 7?
The viewing angle from side to side in landscape mode is very good. But the loss of definition when you go off-axis vertically reveals the downside of traditional LCD as compared with the AMOLED technology now beginning to be used in devices like the Samsung Wave - costly at this sort of size - or even the more modest IPS that Apple uses for the iPad screen. A limitation for a device you'll often have lying flat on the table in front of you, but not, in practise, a very big deal. The 800 x 480 resolution is more of a handicap, especially when compared to the Samsung Galaxy Tab's 1024 x 600 panel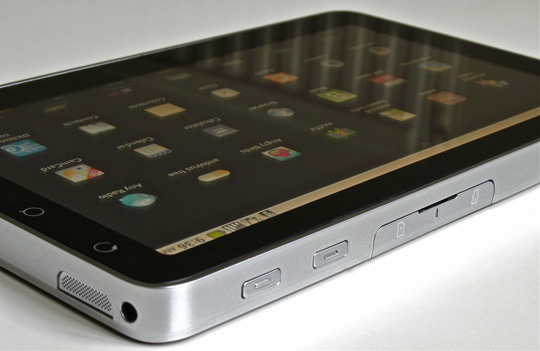 Slip in a Sim for 3G connectivity
Speaking of Apple, the ViewPad's industrial design is very close to the solid aluminium-rimmed styling of Cupertino's latest phones and lightweight notebooks. Clearly, Johnny Ive has his admirers in Taiwan. Switched off or sleeping, the ViewPad looks like a black glass tile solidly framed in silver. The half-inch rim gives plenty of room at the top – in landscape mode – for a flap that conceals sockets for Sim and a Micro SD card. To the right of this, two flush buttons control the audio volume.
The left and right edges have small grilles for a pair of tiny but surprisingly listenable speakers. Above these are a pair of circular recesses evidently for the attachment of a case, although the tough canvas-like black case provided uses three stout clips to retain the device instead.
Immediately below the left-hand speaker is the power switch. A short press to awaken the machine or put it to sleep and a longer press when it's switched on to pull up a menu offering complete power down, sound muting or airplane mode.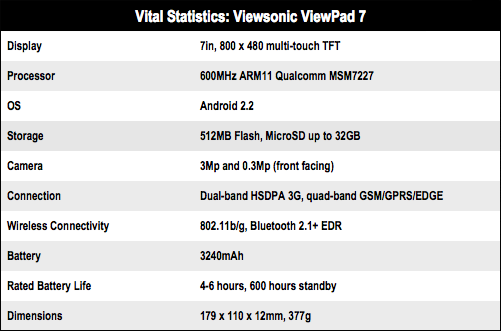 Sponsored: Minds Mastering Machines - Call for papers now open