Dell netbook-cum-tablet priced up
Convertible computer comes in around £400
Dell isn't saying how much it's Inspiron Duo - the netbook with the spin-round screen - but Microsoft is.
The software giant's US-centric online shop has started taking orders for the Duo, which is there priced at $549 (£342) a pop.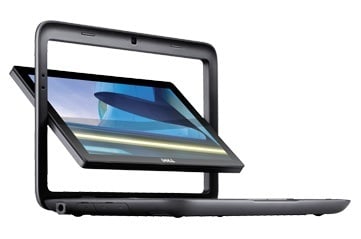 That suggests a UK price of £400.
Whatever Dell charges over here, the Duo will contain a 1.5GHz dual-core Intel Atom N550 processor, 2GB of 800MHz DDR 3 memory, 320GB hard drive, Bluetooth, 802.11n Wi-Fi, a 1.3Mp webcam, and a 10.1in, 1366 x 768 "HD multi-touch widescreen" display.
The screen is touch-sensitive because it pivots round within the bezel so the 285 x 195 x 29mm Duo can be used as a tablet. It weighs more than 1.5kg, so it's a bit heavier that your average media tablet.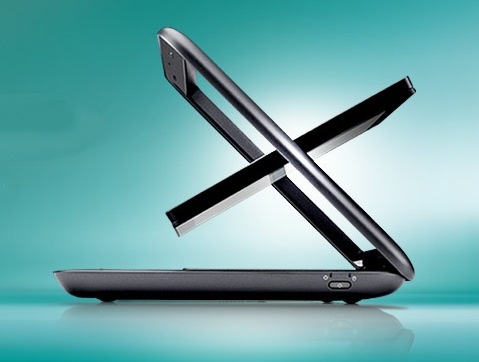 The four-hour battery life is limiting too. The Duo runs Windows 7 Home Premium.
Unlike Dell, Microsoft said it will sell you the Duo after it has "removed the trial software that can slow down your PC". Ahem to that.
No word on when the Duo will ship, though. ®
COMMENTS
An innovative design
But it looks designed to be broken.
Windows Tablet...
...Has already failed. Why should this succeed?
Need to know...
1. Screen - Quality. Matt? Glossy? Capacitive or resistive? Finally... whatever config it is... Is it usable?
2. Expandability - HDD swap? Memory upgrade? How easy to do it?
3. Ugliness. Do SD cards stick out of it?
4. Battery ... yeeeurgh... sounds ghastly already.... is this 4hour thing true?
5. Can you fully linux it? without mad hunt for drivers etc...
This is no ordinary tablet
Because this looks cool to teenagers. My son (an android user) is drooling over this. Might snap one up!
Oh deary me
"My wife is starting to have performance issues with her slightly older single core netbook "
The only OS that I know of that 'develops' performance issues is Windows.
If you've already written off the netbook, try a Lunix install on it - I'd suggest Linux Mint rather than the current Unity cripplewared Ubuntu 10.10 - and see if that gets the old girl revving again.