Samsung UE55C9000 55in LCD 3D TV
Thin as a biscuit and just as tasty
Remote possibilities
Nevertheless, despite the high price, the TV isn't exactly perfect. The backlighting isn't quite as even as perhaps you would expect on a set as high-end as this and there are some issues with the backlight dimming too. For example, if there's white title text on a pure black background you can see differences in the back levels around the areas of the picture that contain the white text.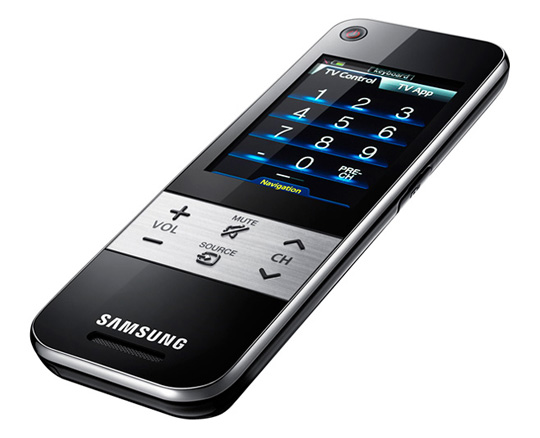 The remote has some very advanced features, but it's a pain to use for basic stuff
Perhaps the biggest problem is set's the fancy touchscreen remote. It has some seriously advanced features. It's Wi-Fi enabled so you can stream a live channel from the TV to the remote's colour display – handy if you need a pee during tense a penalty shootout – and it can also be programmed to control a whole range of other devices.
However, it's very awkward to use for simple tasks, like navigating around the telly's menu system. The screen just isn't responsive enough and it's far too easy to hit the wrong on-screen button and end up dumped out of the menu you were trying to adjust.
On the audio front, however, the TV is a surprisingly competent performer. Although flatscreens generally deliver pretty poor audio, that's not the case here, partly because Samsung has cleverly placed the speakers in the stand rather than in the set's chassis.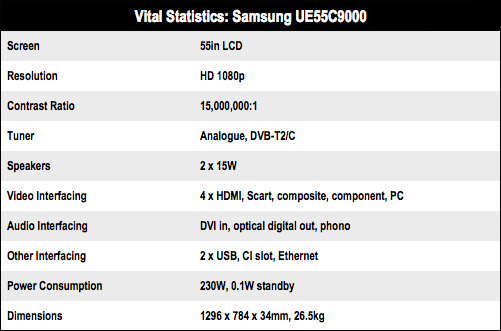 Sponsored: Minds Mastering Machines - Call for papers now open