Samsung UE55C9000 55in LCD 3D TV
Thin as a biscuit and just as tasty
Upscale top ranking
Given the ludicrous price of the set, you'd expect it to deliver when it comes to picture quality and, thankfully, it doesn't disappoint. Its performance with standard definition material is astounding as it has perhaps the best upscaling I've seen on a set of this size.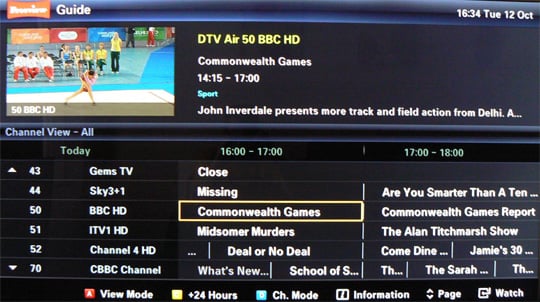 The EPG is beautifully presented and easy to navigate
HD content – either from the Freeview HD tuner or delivered via Blu-ray – also looks hugely impressive, as the TV conjures up really bright and punchy colours, while at the same time also managing to reproduce subtle shadow detail and deep blacks in darker more film noir-ish scenes.
For 3D, the TV relies on active shutter glasses. Only one set is included in the box. These feel quite light to wear, as the bottom of the glasses are rimless. However, they're not super sturdy, so I doubt they'd stand up well to being knocked off the side of a sofa or sat on.
The C9000's 3D performance is actually very good, especially by LCD standards. It creates a convincing depth of field that has a real wow factor, especially if you're new to 3D. As with all the current 3D sets on the market there is some slight crosstalk visible when watching in 3D and this manifests itself as minor doubling of the image on edges, especially those in the far distance.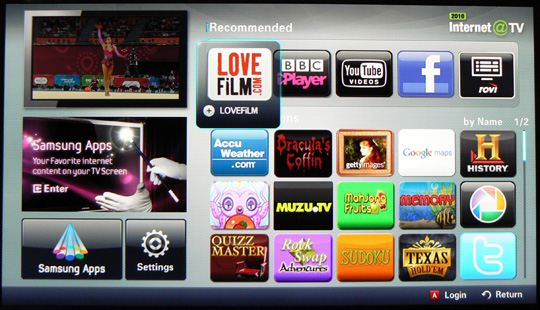 There's a great line up of internet services, including BBC iPlayer
However, it's much less noticeable here than on, say, recent models from LG. In fact it's not really far off that of Panasonic's plasmas, which are pretty much the gold standard for 3D at present. And as the set has the added advantage of brighter images (as pictures remain bright even with the dimming effect of the glasses) the differences between it and Panasonic's plasma models is a bit swings and roundabouts in terms of overall 3D performance.