Samsung UE55C9000 55in LCD 3D TV
Thin as a biscuit and just as tasty
Review If money was no object, what type of TV could you create? If you're Samsung, the UE55C9000 is just one possibility. It may be slightly more expensive than many small cars, but the outlay gets you the slimmest TV you can currently buy, yet one that's still crammed full of high-end features including LED backlighting, Freeview HD and 3D support.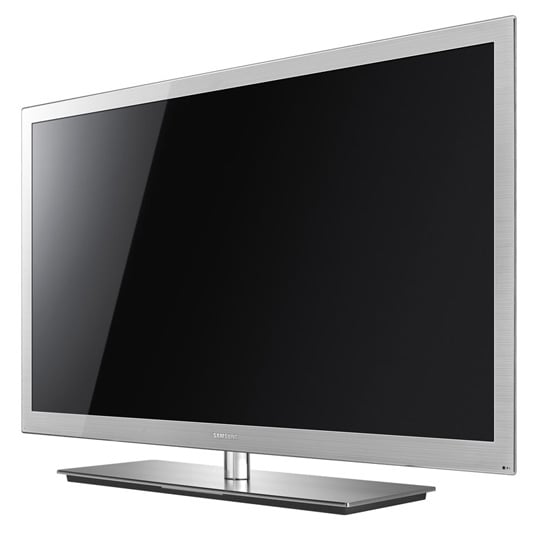 Thin film technology? Samsung's UE55C9000
There's no other way to describe this set other than utterly gorgeous. Despite having a massive 55in screen, it is a mere 7.98mm deep – that's slimmer than a CD case! The finish looks incredible too as the entire set, including the stand, is hewn from luxurious brushed titanium. There are also some clever touches here and there including a motorised control panel that slides out when you touch the front lip of the stand.
As the C9000 is so slim there's no room for the usual line up of connections on the actual screen. Instead these are housed on base of the stand. If you want to wall mount it, this base can be removed and fitted to the back of the set.
Here you'll find connections for four HDMI sockets, a USB port, VGA socket, component input, composite, aerial, Ethernet, and Scart – the latter four need to be attached using adaptor cables, as there isn't enough room to house full sockets on the thin base. In the box you'll also find a Wi-Fi dongle that connects to the USB port if you'd prefer to go wireless rather than use a wired connection.

With four HDMI ports, you shouldn't have any problems hooking up external AV kit
The C9000 has a Freeview HD tuner so you'll find the HD services from the BBC, ITV and Channel 4 nestled alongside the usual SD channels in the set's attractive and easy to use EPG. The Ethernet and Wi-Fi connections are also put to good use, as the TV can stream videos (including Divx HD and MKV files), photos and music files from DNLA devices such as a Windows PC or NAS drive. There's also a great line up of Internet widgets including LoveFilm, BBC iPlayer, Daily Motion and YouTube. Of these, iPlayer is perhaps the most useful, especially as it's so quick and easy to navigate.
Sponsored: Minds Mastering Machines - Call for papers now open