Yahoo! Connected TV to open paid app store
Calling! all! money! hungry! coders!
Developers can now build for-pay widgets for Yahoo!'s Connected TV platform. Yahoo! will distribute these third-party mini apps through its Yahoo! Connected TV Store, due to launch in March of next year.
The store's developer program is now open to coders, and widgets can be build with Yahoo!'s existing widget SDK, downloadable here.
Yahoo!'s Connected TV platform is on televisions from five of the top ten worldwide manufacturers, including Samsung, Sony, LG, Vizio, and Toshiba. According to Yahoo!, these TVs are now available in 135 different countries, and about 4.5 million TVs are now in the market. It expects that number to reach 8 to 10 million by the end of the first quarter 2011.
The platform layers an internet-connected software interface atop your broadcast TV feed. "Our primary focus has been creating an experience that integrates into televisions without any extra device attached," a company spokesman told us.
A software dock at the bottom of the screen offers access to various web services, and you can open these services onto a sidebar interface or open them to full screen. It's navigated with a remote control or a smartphone. "You're still able to watch the big screen and whatever program is on, and follow [internet] content alongside of that." Today, the company says, the most popular applications involve Facebook, news, shopping, video on demand, music, and games.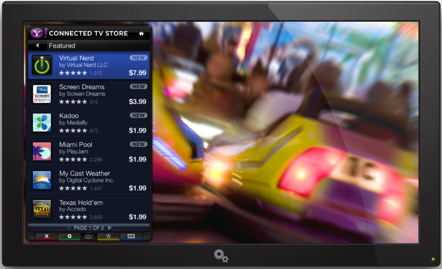 Developers will be able sell their applications for between $0.99 and $99. Yahoo! will keep 30 per cent of the purchase price. The program is open to developers and publishers in the US, UK, Germany, Spain, Sweden, France, Canada, and Australia. But Yahoo! expects to expand to other countries as well. ®
Sponsored: Minds Mastering Machines - Call for papers now open