Top Ten Arcade Classics
Shinryuken! Feel my burning vigour!
Atari Star Wars

Even though this game has three sections, why is the Death Star trench the only bit that I remember speeding through? The most fun to be had for 10p ever was skirting obstacles made of polygons and shooting the top off those evil gun turrets, while trying to get the timing of my proton torpedo right for a direct hit on the space station's thermal exhaust port. Almost as much fun as snorting amyl nitrate on a park bench, and a lot less expensive.
Dee, dee - diddly dee, dee - diddly dee, dee - diddly dah....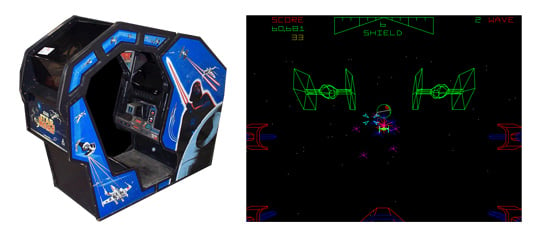 Cinematronics Dragon's Lair

Out of all the games on this list, this was the one that I spent the most money on and was frustrated the most by, but I think it inspired me and led me to a career in the animation industry. Rick Dyer was given the inspiration for this game after watching The Secret of NIMH and somehow even with its unique technology this fully cell-animated video game took off. The animation was on a laserdisc, the joystick and fire button worked almost like a television remote control. You control Dirk the Daring's decisions rather than his physical movements arguably making this the foundation for todays RPGs.
I remember always being gutted that even though this game cost more than the others in the arcade, Dirk's next step invariably lead to death. This game was hard and all about timing, you had to become in tune with the games rhythm rather than button bashing to stay alive. Because of the super outdated technology and laserdiscs decaying and corrupting over time this game is now super hard to get a hold of in it's arcade version. But don't worry, there are DS, PSP and iPad versions on their way.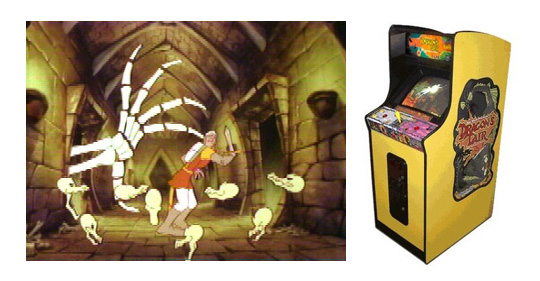 Sponsored: Minds Mastering Machines - Call for papers now open