A race to the finish
Pert, critical path or crawl to the line?
Let's look at it a different way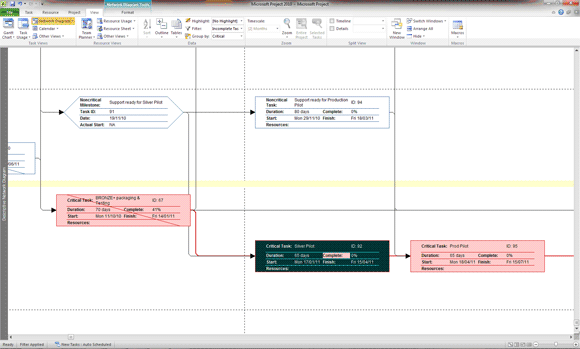 Same project, but zoomed into specific Activities.
But with the increasing power and flexibility of simpler software such as spreadsheets and specific PM applications, are Pert and CPM becoming less popular?
Bob Walker, Microsoft project technical sales specialist, believes they are. "Most of our customers don't use it and are not trained to use it, even though it's a good visualisation tool. Many prefer to create a work breakdown structure [WBS] using Visio, and then to generate a Gantt chart from that data. There are also misconceptions about critical path, with some believing it's fixed. It's not, of course," he says.
WBS is a tool for planning the project as a series of levels arranged in a tree structure, often created using a spreadsheet. It uses a technique known as "progressive elaboration" to give increasingly granular details on the activities.
Dale Vile, managing director of FreeForm Dynamics, agrees with Walker - with reservations. "Projects nowadays are more inclusive, with more people involved, and dynamic. Keeping Pert models up to date is therefore often more trouble than it is worth," he says.
"Critical path analysis, however, is still absolutely essential, whichever way you do it. Otherwise you cannot be confident of delivery times and cannot assess the impact of any potential slippage.
"Today many projects are planned on the basis of 'just enough' analysis, in other words to determine key dependencies – including critical path – but with no attempt to be exhaustive as Pert requires. The 80:20 approach to planning is a lot more common."
Grand Union Canal Race runners know this method of project management. Jason French finished seventh in 2007 in a gut-busting 34 hours: "I have a pre-race plan but due to an inability to discipline myself the plan is always: run until I can't run any further, then stagger until I can't stagger any further, then crawl until I can't crawl any further. Hopefully, somewhere before I reach the end of that plan I will have crossed the finish line in a decent position." ®
Sponsored: Minds Mastering Machines - Call for papers now open