Super Meat Boy
Play for high steaks
What's the beef?
Super Meat Boy is a cube of meat, apparently a boy with no skin, who runs, jumps and bounces off walls. There are no powerups, no health bar and no game overs - if you hit a hazard you die and restart the level. These levels gradually increase in difficulty until they border on what initially appears impossible. However, after meaty perseverance you scrape through with relief and much satisfaction.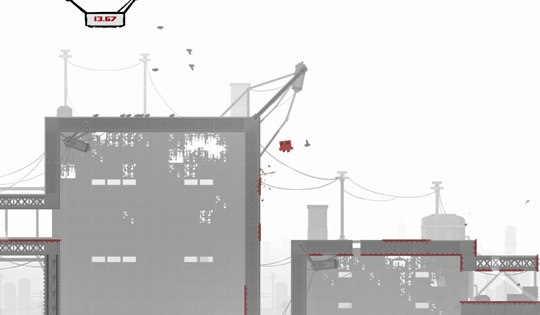 Hit the road, splat
Each level is so short there's no need for checkpoints and despite the fact you may die over a hundred times in the process, the game remains enjoyable. In the same sense as Trials or N+, you master each step gradually and as soon as precision skills are up to scratch, end up completing the level in minimal time. This accuracy improves so much, I found myself whizzing through levels I once thought impossible in super fast times and unlocking the "darkworld" version. These are harder variants that add at least another three hundred f-word outbursts before completion.
While from outside the room, I may sound like I suffer from Tourettes, the constant failure and frustration is by no means a turnoff. The concentration nausea does kick in eventually, but after a short break I was gagging to play again. The quickfire repetition of joypad movement can cause much thumb ache, so although SMB is a one-player game, taking turns with a friend is an enjoyable and often much-needed experience.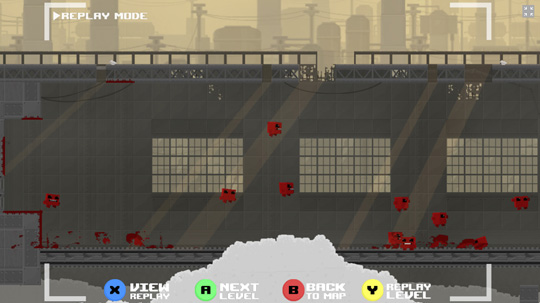 Super minced Meat
By the time you've completed a level, every wall will be covered with red gloop and a replay is shown, which while centred around the successful attempt, simultaneously features every failed run too. Dozens of Meat Boys dying in the space of half a minute is pretty cool to witness.