New owner slips into unwitting BoJo's domain
Mayor loses campaign site to domainer
Boris Johnson is trying to recover the domain name backboris.com, after the London mayor's people apparently forgot to renew the registration.
BoJo used the domain for the official website of his successful 2007/8 campaign to become Mayor of London, but Whois records show that the registration was allowed to expire in July 2008, just a couple of months after he was elected, by Johnson's unwitting employees.
It was subsequently re-registered by an individual or company using a privacy service to hide their contact information.
The site is currently "parked" with automatically generated ads for products including political magazines and books, as well as, when we checked, a "Naughty Dating" service provided by benaughty.com.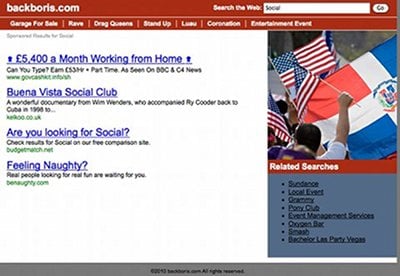 Boris this week filed a complaint, attempting to recover the domain from its current owner via an Internet Corporation for Assigned Names and Numbers (ICANN) procedure known as the Uniform Dispute Resolution Policy (UDRP), which will be administered in this case by a World Intellectual Property Organisation panel.
The mayor will have to show that the domain is identical or confusingly similar to a trademark he owns, that the current registrant lacks rights to the domain, and that it was registered in bad faith.
There is some precedent for people in the public eye recovering domains using the UDRP, even when they have not officially registered their names as trademarks.
Whois records show that Johnson's domain registrar of choice was Grand Cayman-based directNIC, which is currently being sued for cybersquatting in the US by Verizon.
The contested domain is now registered using a privacy service provided by Belize Domain Whois Service Lt, which has been named as the defendant in almost 100 previous UDRP disputes.
Boris is using the domain backboris2012.com for his 2012 re-election campaign, but there are still thousands of web back-links to backboris.com.
Forgetting to renew a domain registration is a surprisingly common problem, even among large companies and big brands.
Most recently, earlier this month, the Dallas Cowboys website temporarily disappeared after the American football team forgot to pay its $10 annual renewal fee. ®
Sponsored: Minds Mastering Machines - Call for papers now open