Original URL: http://www.theregister.co.uk/2010/11/19/a400m_euro_onanism/
New RAF transport plane is 'Euro-w*nking makework project'
Gov refuses to admit what we'll pay for toss A400M
Posted in Government, 19th November 2010 13:22 GMT
Free whitepaper – Hands on with Hyper-V 3.0 and virtual machine movement
A peer and former defence minister has described the A400M military transport plane - which is being bought by the cash-strapped UK armed forces for a secret but outrageous amount of money - as a "Euro-wanking make-work project" in the written Parliamentary record.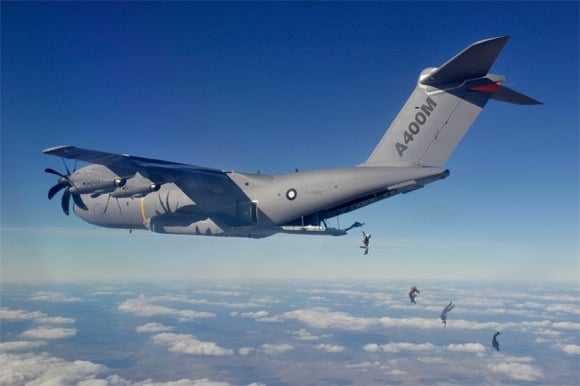 If only the UK had had the sense to bail out of it.
The straight talk came from Lord Gilbert, who held various ministerial portfolios in the 1970s - including a defence one - and did another spell in the MoD as a peer in the first years of the Blair government. Last week he made the following remarks in the House of Lords:
I regard the decision on the A400M as the most bone-stupid in the 40 years that I have been at one end or other of this building. It is an absolutely idiotic decision. We have a military airlift fleet of C-17s and C-130s. We have total interoperability with the United States... six or seven countries altogether will be flying the A400M. Flying the C130, which it is intended to replace, are 60 countries, with 2,600 or so C130Js currently being used. That is the interoperability that we are losing...

Why on earth are we doing this? I once described this rather vulgarly as a Euro-wanking make-work project and I do not resile from that. I hope that this time Hansard will leave that in and not take it out. It was in the next day's version but Hansard funked it and took it out of the Bound Volume. I hope that this is all on the record.
Fortunately it is [1]. We here on the Reg defence desk couldn't agree more about the A400M, which is an unbelievably bad bargain for the British forces.
The partly-European airlifter, now in flight tests, is nowadays officially projected by the Ministry of Defence to cost the UK £3.2bn for acquisition of 25 planes: this figure has climbed by 40 per cent just in the last six years [2], and in fact the true cost has climbed further and is now a secret.
Yes, you read that right: the cost of the A400M is secret. Because the plane's development was cretinously botched, costs recently escalated [3] to the level where Airbus - in charge of the consortium building it - could no longer turn a profit on the agreed price. This led Thomas Enders, Airbus chief - pictured above leaping out of a test A400M recently - to suggest that the company might simply axe the project rather than make the aircraft at a loss.
This led to the partner nations engaging in closed-door negotiations with the company in which a new higher price was agreed: but we ordinary citizens aren't allowed to know what that price is - nor is Lord Gilbert, in fact. Earlier this month he was told [4]:
A detailed breakdown providing specifically the cost of the A400M design and production phase contract requires the consent of all the partner nations, Organisation Conjointe de Co-operation en matiere d'ARmement (OCCAR) and Airbus Military. It is for this reason we do not expect to disclose the information.
So we can take it that in fact the A400M costs significantly more than £130m per plane. The UK has been able to acquire much bigger, faster, longer-ranging C-17 Globemasters from the US in recent years for acquisition costs of £70m at most*. A Globemaster carries more than twice what an A400M can and costs half what an A400M does: it is four times better value for money.
People often argue that huge planes like the C-17 aren't suitable for shorthaul work in Afghanistan, of course. This isn't because they can't do the job - a C-17 is quite capable of landing on rough airstrips and has a ramp - but because big jets are seen as too valuable to risk on the more dangerous tasks.
Obviously, this thinking only makes sense if smaller shorthaul planes actually cost less than big intercontinental ones. Given the relative costs of A400M versus C-17, it should be the cheap Globemasters doing the short hops in-theatre and the costly A400M doing longhaul airbridge work between Kandahar and the UK.
---
French defence minister either unbelievably ignorant or simply lying
Or it would, anyway, if the A400M could do longhaul cost-effectively: but it can't, being a slow, low-altitude turboprop**. It is, as Lord Gilbert says, a truly useless beast. That's why nobody is buying it except the nations who are making it, and why its only hope of ever making any export sales is for the C-17 production line to shut down (even then anyone with any sense would buy Russian).
So why on Earth didn't the A400M get cut in the recent Defence bloodbath? We could have bought 25 Globemasters instead, thus obtaining more than twice as much lift, and still saved ourselves something on the order of £2bn - enough to keep the Harrier jumpjet fleet going for several years, for instance.
Why? Lord Gilbert thinks he knows:
I can tell your Lordships why we are buying the A400M because I want to pay special tribute this afternoon to the defence Minister of France, who is our new best ally in Europe...

Monsieur Morin said at a news conference on Friday.

"Giving it up would have meant Europe saying it wanted to be dependent on the United States in military transport".

How pathetic. We are spending hundreds of millions of pounds on a plane just to make sure that nobody thinks we are dependent on the United States for military transport.
Unfortunately buying the A400M still very much leaves Europe dependent on the US in military transport as the A400M is chock full of American-made stuff [5]. If the Americans ever decide to cut off the supply of spare parts, the A400M will not keep flying for long. M'sieu Morin either doesn't know this, which case he is an idiot unfit to hold his job, or he is a liar.
So there is no actual reason to buy the A400M at all, except to supply work to European factories. It is, as Lord Gilbert says, a make-work project. It is Europe sitting on its own satisfying itself in a fantasy world - "Euro-wank", indeed.
They should have called it the "Sherman"***, not the "Grizzly". ®
*The first six UK C-17s cost "on the order of £2bn [6]" including support. Generally through an aircraft's life support costs at least 3 times what acquisition does. Thus £70m acquisition cost for a UK C-17 is quite reasonable - it may even be a bit harsh.
**Don't just take our word for it - listen to RAF Wing Commander Roger Green:
[The A400M]'s operations will be bound by many of the same restrictions that affect C–130 in the strategic [air bridge] role. In particular, its useful range is limited to sub-strategic sector lengths that will require a greater number of aircrews and support facilities... the aircrew ratio will need to take full account of the strategic role and the increased likelihood of carrying payloads that will require staging and, hence, additional slip crews compared to the C–17 with its longer range.

There is a problematic situation regarding the A400M should it go unserviceable whilst away from a main or RAF support staging base. Because the C–130 is in service with many air forces, and both the C–130 and the C–17 are operated by the USAF, the RAF has been able to take advantage of the mutual assistance that exists between national air forces on a global basis. That is not going to be the case with the A400M and it is likely that outside Europe, RAF A400M operations will have to be supported from its main base with the concomitant operational penalties.
***Rhyming slang: Sherman tank