iPad apps: the 10 smartest and 10 stupidest
From the sublime to the 'WTF?'
No. 3
Smart: Desktop Connect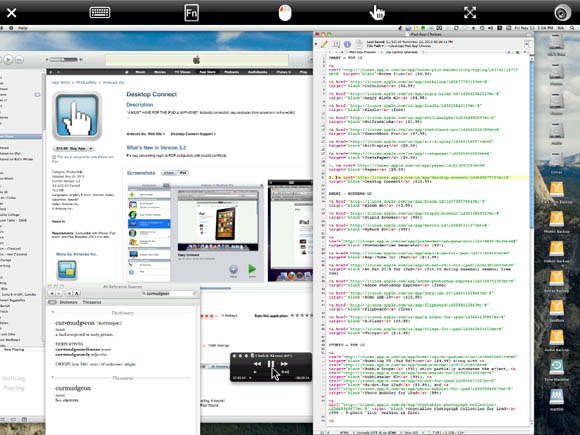 You can squeeze a 27-inch iMac onto a 9.7-inch iPad — and still use it — with Desktop Connect
They say: "View and control Windows, Mac OSX and Linux computers as if you were sitting in front of them, or observe others as if you were watching over their shoulder."
The Reg says: There are a few different ways to display and control your Mac or Windows PC on your iPad, but of the ones I've tried, Desktop Connect is my window-on-the-world of choice.
Not that there's anything wrong with, say, LogMeIn Ignition, but it costs twice as much as Desktop Connect, and DC provides me with all the features and security I need. Your needs may differ, so definitely check them both out before making your buying decision.
Desktop Connect's simple-but-thorough user interface makes it easy for me bend my desktop to my will while using my iPad to, for example, remotely access my home Mac, drop a file from my Mac into my MobileMe iDisk, access it with the MobileMe iDisk app, and view it on my iPad.
One heads-up: although I've had no noticeable difficulty with Desktop Connect other than choppy performance, and although I've had no reason to test its RCP support (it also supports VNC, thankfully), there are plenty of App Store reviewers who've had problems with earlier versions — the most recent version, 3.2.1, was released November 15.
I guess I'm just one lucky guy.
Price: $14.99
---
No. 3
Stupid: Escalator Stairs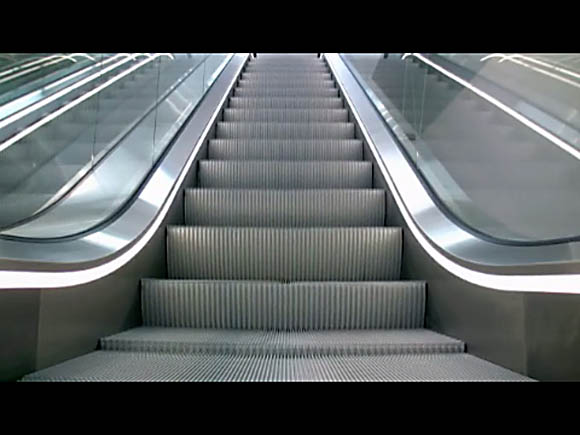 Escalator Stairs displays an unending "beauty full" [sic] video loop of — you guessed it — an escalator
They say: "Just start the app and be amazed by the beauty full animation. Look at the movie, listen to the background music and sounds and forget about all the problems of the everyday life."
The Reg says: Back in 1964, artist Andy Warhol released a movie entitled Empire, which consisted of a single eight-hour shot of New York City's Empire State Building, from dusk until dawn.
That was art. Escalator Stairs is stupid.
This app consists of a five-minute video loop of the foot of an escalator, with the stairs eternally rising and a vaguely mechanical drone playing in the background. Alternately, you can display the video in a smaller size, accompanied by a collection of elevator facts such as: "FACT #25: On June 26, 2009, a man died after falling off an escalator in Helsingborg, Sweden."
Come to think of it, maybe Escalator Stairs — along with its companion pieces Never Ending Road (99¢) and Kitchen Gas Flame (99¢) — are brilliant examples of absurdist and/or minimalist art.
But if so, I don't care. I think they're stupid, all three of 'em.
Price: $1.99
Sponsored: Minds Mastering Machines - Call for papers now open