Samsung SF310 13.3in notebook
Fashion victim?
Under the thumb
For a start, the area offered to the left/right buttons on the trackpad is way too small given that many will use use the flat edge of the thumb, which makes more contact with the trackpad and can easily confuse it. The way to get the SF310's trackpad to behave though, is to crane your fingers and thumb over it, reducing the areas of contact. So you have to retrain your habits and, obviously, you'll forget, so simple tasks such as resizing windows become a precision job. A bigger arse pain on a working, modern computer I have yet to come across. The answer? Get a mouse.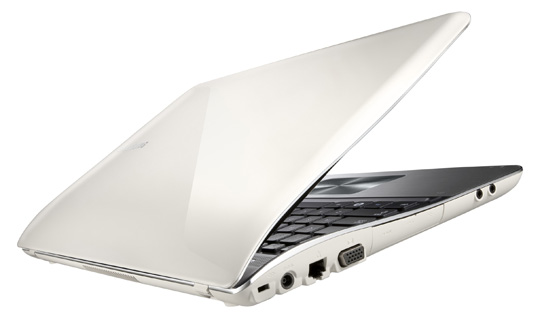 A plastic panel hides HDMI and two USB ports
Now, being left handed, plugging a mouse into the left side seems reasonable, but here you find that, unlike the solitary USB port on the right side next to the DVD-RW drive, the two USB ports and the HDMI interfacing are hidden up by plastic cover. It looks neat when closed, but is a tad annoying, as it's a faff when you want to plug things in quickly, and fingernails are essential. Also on the left side is an 4-in-1 card slot with a white blanking insert, two 3.5mm jack sockets for mic and headphones, a VGA port and Gigabit Ethernet.
The glossy 1366 x 768 LCD screen wasn't too prone to excessive reflections when in use. While not the most dazzling display, it is crisp yet seems somewhat subdued in terms of contrast. Featuring both an Nvidia GeForce 310M and the integrated Intel HD GPU, the SF310 utilises Nvidia's Optimus technology to manage resources. This set-up endeavours to maximise efficiency by keeping the power-hungry Nvidia graphics device turned off most of the time, dealing out the heavy duty tasks to it only when required. It's all flicker-free and you really wouldn't know it was going on in the background.
Another efficiency you wouldn't necessarily be aware of is the hyperthreading capability of the 2.53GHz Intel Core i5-460M CPU. However, Samsung makes sure you know about it, as an Intel Turbo Boost widget appears at startup and charts whenever you're in 2.8GHz turbo territory – which typically blips when opening an hefty application and noticeably when interacting with the on-board Flash demo for the first time.
Kitted out with a 320GB drive, 4GB RAM and 64-bit Windows Home Premium, the SF310 notches up 4.5 on the Windows Experience index. It's certainly no slouch though, and compares well with other Core i5 machines. Although it didn't match the claimed three second start up from sleep, it wasn't far behind at around five seconds. It also managed a modest 3DMark06 score of 3807 with the Nvidia GeForce 310M and 1932 with the Intel HD integrated GPU.

No battery swapping on the move with this model
While it can get rather warm, it never really gets that hot and with careful use the battery life seems to match Samsung's claims of over seven hours. Certainly, the juice-sucking repeated tests with PCMark Vantage until death, have it scoring very highly indeed. However, the battery is integral and can't be swapped out in a hurry, although just one screw holds the access panel to drive and memory slots.
Sponsored: Minds Mastering Machines - Call for papers now open